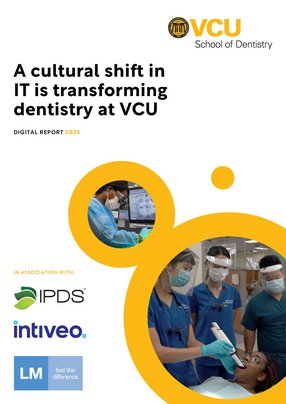 A cultural shift in IT is transforming dentistry at VCU
VCU School of Dentistry is at the forefront of a technological revolution in oral health. Brian Canaday, Mike Talley and Brent Idleman tell us more.
Virginia Commonwealth University (VCU) School of Dentistry was founded in 1893 in Richmond, Virginia. Its mission is to educate tomorrow's oral health leaders in a community of service and inclusion by utilising emerging technologies and innovative research to provide comprehensive oral health care for all. As the only dental school in the state of Virginia, it plays a vital role in preserving and improving the oral and general health communities throughout the state. It incorporates state-of-the-art technologies to provide a unique, hands-on educational experience to students in dentistry, advanced dental education, graduate research, and dental hygiene programmes.
One of five health science schools at VCU, VCU School of Dentistry shares a campus with a large, urban academic health system, VCU Health. Functioning much like a hospital itself, the school is home to a robust, fully specialised dental practice that treats more than 32,000 patients each year through 100,000 plus appointments. It has one of the top digital dentistry programmes in the U.S., and its Philips Institute of Oral Health Research is ranked 17th among all US Dental Schools in National Institutes of Health funding.
As dentistry evolves to increasingly rely on advanced technologies for patient care, the information technology team at VCU School of Dentistry is critical to carrying out the school's mission and serving the oral health needs of Virginia's communities. Led by Brian Canaday (Chief Information and Business Solutions Officer), Mike Talley, (Director of Application Development, Infrastructure, and Business Intelligence), and Brent Idleman (Director of Clinical and Instructional Technologies), the IT team is quick to point out that the school is a unique environment that blends education with patient care, allowing the flexibility and guardrails needed to let technological innovation thrive.
It starts with building a team and a culture
Brian Canaday is the Chief Information and Business Solutions Officer at the school. He describes his role as a blend of information technology, business operations and, importantly, someone who sets the team culture and vision.
"I lead the processes, technology and people within our organisation. I ensure that the outcomes that we deliver meet the actual business objectives," he said.
After graduating college, Canaday started teaching in public schools. He saw this as an opportunity to observe senior level teachers, administrators and athletic coaches in action.
"I picked up on all of the little things that they did, their attention to details, integration of tools and technologies, their focus on structured processes, and their passion for leadership," said Canaday. "I started exploring technology to see if it could be a tool that I could use to assist with my teaching and coaching interactions. From there, I decided to pursue another degree and moved into the information technology space."
After earning his M.S. in Information Systems at VCU, Canaday landed a job on the web development team with the City of Richmond. After that, he started his first stint at VCU School of Dentistry as a lead analyst and programmer before transitioning to a director of technology role at VCU School of Pharmacy.
"I missed the health care technology environment at VCU School of Dentistry and was fortunate to return in an expanded role," said Canaday. "Since I returned, my focus has been to create an entirely new technology team and a new culture, one person and one process at a time. The last three years have been amazing."
Mike Talley is the Director of Application Development, Infrastructure, and Business Intelligence. He leads a team of developers and engineers responsible for over 50 applications, some of which were developed in-house and some are third-party solutions.
"We're responsible for the underlying infrastructure of those applications, including the servers and cloud infrastructure," Tally explained. "We ensure those applications are constantly up and operating when needed. We are continuously innovating and improving processes to ensure we have the reliability and stability to fulfil our clinical, educational and business needs."
Talley has been interested in information technology and computers from a young age. "I remember getting my first computer and I took it apart - I knew that's what I wanted to do from that point on," he said. Talley eventually went to Virginia Commonwealth University and graduated with a degree in information systems.
"I loved the university, especially the culture and diversity that thrives at VCU. When I graduated, I knew one day I wanted to come back and work here," said Talley. "I got an opportunity to apply for a web developer job here at the school, and I had no idea what I was getting into at the time, but it was terrific! I've enjoyed working here for the past 15 years."
Brent Idleman is the Director of Clinical and Instructional Technology. He and his team assist everywhere that technology and education intersect, including hardware and software support and optimisation in clinical settings as well as didactic needs in the classroom.
Idleman credits two personal interests that brought him to this point in his career.
"Music and video games got me here. Yes, as silly as it may seem, I think playing video games has really helped me," said Idleman. "Gaming is really just software that is manipulated with some type of peripheral. Years of 'practising' has allowed me to navigate, learn, and test user interfaces and new software, efficiently and thoroughly. By learning every little detail a platform has to offer, all the click paths, all the menus, I can then spread that knowledge to others."
Idleman is also a lifelong musician, and this is what eventually led him to pursue a career in musical education and become a teacher.
"As a music teacher, I honed my pedagogical skills, which have been instrumental in my current role. I also fell in love with teaching and helping others," Idleman said. "When I left teaching in public schools, I had to find somewhere that married together my love of technology, love of teaching and my passion to serve others. VCU School of Dentistry is that place."
"Bringing Brent onboard solved two major issues," said Canaday. "We needed someone communicative and charismatic that could lead our instructional technology efforts, but we also needed someone who could teach our faculty, staff and students how to use our clinical technology. Brent has a thirst for teaching and an analytical eye toward technology; he was a perfect fit. Mike is a uniquely skilled individual who is great at application and web development, Windows servers, databases, electronic health records systems and more. He is also a certified Project Management Professional, which makes him a perfect fit in his role and allows him to leverage his talents to propel forward new technologies in our environment."
Technology is critical to fulfilling the mission of the school
Assembling a strong and dedicated team was the first and most important step in establishing a successful and efficient technological environment at VCU School of Dentistry. Next, Canaday, Talley, Idleman and the rest of the team needed to align their tools and resources to effectively serve the school's mission.
Realising technology is everywhere and driving many of the priorities of the school and the future of the profession, they immersed themselves in the subject matter in order to better understand their stakeholders' needs, opportunities and challenges, and provide solutions.
"I always say that this school lives at the intersection of education, health care and research," said Idleman. "We educate future healthcare professionals, we treat patients, we perform leading-edge research and we build life-long relationships. That's very exciting. Technology is transforming each one of those areas, and our technology team is helping to drive that transformation."
Dentistry has undergone a digital revolution in recent decades. For example, three-dimensional imaging with intra-oral scanners is quickly replacing plaster moulds of teeth, and cone-beam computed tomography allows practitioners to understand their patient's anatomy and dental needs more than conventional two-dimensional x-rays. However, this technology also creates immense amounts of data and requires careful integration with other systems essential to clinical operations.
In order to graduate dentists at the forefront of their profession, VCU School of Dentistry must be at the leading-edge of dentistry. The team tries to put itself in the shoes of the school's dental, dental hygiene and advanced education students.
"Our students need to understand technology and effortlessly interact with it to be successful here and in their future careers," said Talley. "We have multiple units within the IT team that work with those students and our faculty members to make sure we understand their needs and can provide a clean and successful experience."
The combination of serving more than 500 patients a day plus supporting the educational needs of students and faculty make for a fast-paced and constantly evolving work environment with complex technical demands.
"The key is aligning the knowledge and skills on our team with the operations of the school and clinics in a thoughtful and proactive way," said Canaday. "We not only need to understand the goals, objectives and vision of the school's administration and clinical directors, but we also need to maintain excellent relationships with the many vendors that supply and help us maintain the technology that the school relies upon."
When asked for specific examples, Canaday points to their relationships with LM Dental, IP Data Systems, Intiveo, Medicorp Imaging and VCU's central Technology Services unit as models of success that are driving innovation at the school.
Transforming the educational experience in classrooms and clinics
Once they had the right people in the right roles, the team then worked to identify areas to increase efficiencies through process improvement and automation wherever possible.
"One thing you'll notice is quite a few of us come from teaching backgrounds. This was intentional, because a teacher's ultimate goal is to master their subject so they can effectively teach it to others," said Idleman. "Next we began working on our relationships with faculty, staff and students, and inserting ourselves in committees and workgroups where it made sense. They are our clients, and we need to understand each one individually. Sometimes, we also get the opportunity to interact and support our patients to truly appreciate the technology's impact."
One example of success came from the implementation of a new exam platform. It's able to automatically grade students, and it utilises artificial intelligence to detect cheating. The feedback from faculty has been very positive so far.
Another example comes from a need for better tracking of equipment and materials used in patient care and clinical education. The solution came from working with LM Dental and the school's Instrument Management Services (IMS) team to leverage technology to increase efficiencies and capture more useful data. The team installed LM Dental cabinets, which allow faculty, staff and students to swipe their ID cards and check out the equipment they need, when they need it. This involved close coordination with the Assistant Director of Compliance, Training, and IMS to reduce touch points by his staff and automate the equipment check-in/check-out process. LM Dental was instrumental in helping the team design workflows and select the appropriate amount of technology to streamline processes. The web-based system allows them to manage everything from instrument kits and intraoral sensors, and scanners to laptops, and classroom technology kits.
"Imagine having to write down every single piece of equipment or enter parts into a spreadsheet when you check something out as a student provider or dental dispensary employee. Prior to integrating the LM-Dental Tracking System, the student and dispensary workflow used outdated technology and involved lots of steps," said Idleman. "Now, using RFID technology, most items, like dental materials, instruments, implant bags, laptops and classroom technology tools are tagged, checked-out, and tracked automatically."
The technology allows students to easily use their ID badge to check equipment out and then return it by placing tagged equipment on an RFID scanner for easy check-in processing. This drastically reduces the amount of manual hand-offs and tracking.
It also allows IMS managers to run just-in-time reports to see who has an instrument kit or piece of equipment. An implant bag can be tracked from the dispensary to a clinic and quickly documented in the electronic health record system seamlessly because of the LM Dental Tracking System. The tracking capabilities help manage the supply chain and inventory better, something that has gotten more challenging since the pandemic.
"Before, we had to manually check out items, like dental devices, dental equipment, and classroom supplies," said Canaday. "Now, we don't have to do any of that. A person walks up to a cabinet, taps their badge, and they check out whatever they want. We can run reports on essentially anything and even monitor how many times an instrument kit is sterilised to help us determine its useful lifespan."
All of this automation leaves time to focus on other tasks that require more attention, like teaching and training.
The team has also turned their attention to the architectural foundation of the school's IT environment by assessing and upgrading infrastructure.
"We've been working in step with the university to transition to a hybrid model that leverages the cloud where appropriate but also keeps many resources on premises," said Canaday. "It was not an all or nothing strategy, a lot of thought went into making our infrastructure reliable with as little downtime as possible."
Canaday emphasises their relationship with VCU colleagues. The university has a well-supported data centre on premise, and it is in the process of building a newer, better one. He also points to IP Datasystems (IPDS) as a reliable external partner who has helped to select, configure, optimise and help run equipment in the data centre.
"For the things that we do well, we decided to keep them on-premise. For instance, the traditional Windows servers, SQL and Oracle databases and the third party systems that run on those servers," said Talley.
The VCU School of Dentistry infrastructure team manages over 25 virtual servers that support the administrative, clinical, instructional, and research operations at the school. Like all hardware, it eventually reaches the end of its useful life.
"Since we had already identified what systems needed to remain on-premise, we needed to scope out an appropriate infrastructure environment that could be optimised for our unique needs, especially our EHR system, which runs on an Oracle database backend, and our picture archiving communication system(PACS) that expands daily," said Talley.
IPDS helped provide a solution that could grow with the school over the next five years.
"They were great partners helping us in evaluating and analysing our environment and assisting us with procuring and configuring the new equipment," said Canaday.
Another move proved invaluable as the school and rest of the world grappled with the onset of the COVID-19 pandemic. The team had made it a priority to increase their usage and attention to virtualisation in 2020.
"VCU was one of the first dental schools to go paperless. We started exploring virtual desktop infrastructure technology for clinical purposes over a decade ago, and we were one of the first to leverage this technology," said Talley. "This and remote access enable the unification of workflow across our clinical operations to enhance the employee and student experience."
During the pandemic, the team replaced everything in the clinical operatories with Wyse thin clients that connect to Citrix infrastructure managed by our University, to improve the delivery of the clinical desktop experience to our students, providers, and support staff. The strategy has served them well over the last three years; however, they recently upgraded the backend environment with the help of IPDS. The new solution still uses Wyse thin clients, but it runs on Dell VxRail Hyper Converged Infrastructure while leveraging Citrix cloud services.
"Ultimately, this means every VCU School of Dentistry student has a consistent, reliable desktop environment when they go into the clinic, and they can also connect after normal business hours remotely using the laptops provided through our student laptop initiative," said Canaday. "Since we are leveraging VDI, we can be platform agnostic, and so, for the first time, we've switched to Macbook Airs from DELL XPS devices for our students."
These decisions also help the infrastructure team when deploying software updates or making changes in the environment. Experiences can remain consistent throughout all clinical spaces, and changes can be integrated once rather than deploying updates to client equipment one endpoint at a time.
Investing in VDI early helped the School of Dentistry during COVID-19, because when everybody had to go home, students, staff, and faculty were able to access their clinical environment and research environments remotely, with little confusion or effort.
"It would've been very difficult for us to transition to a remote or hybrid work environment," said Canaday. "But because we had already made an initial investment, we were able to build on that foundation to allow people to work at home through either the browser or through the Citrix workspace app without starting from scratch to develop a solution."
The disruption caused by the pandemic also ushered in another technological solution to patient relations. To help reduce the workload for front-office staff and improve the appointment reminder experience, the school partnered with Intiveo.
"Prior to our relationship with Intiveo, there was a lot of manual work involved in patient communications," said Canaday. "A front desk administrative staff member had to call or email a patient to confirm that they're coming in, remind them of appointments, handle cancellations, and reschedule appointments. Intiveo replaces all of that for patients signed up in our EHR system for automatic appointment reminders."
Patients can now also automatically confirm or cancel appointments quickly from their mobile phone. It has also allowed them to optimise appointment scheduling. Front-office staff can now quickly scan the appointment book to see if chairs are available the next day or the remainder of the week. Considering there are over two hundred treatment pods within the school, this helps keep them filled which ensures the school provides care to as many community members as possible which translates to valuable clinical experience for students and residents.
"The automated communication saves dentists time, clears up space for front-office workers, and helps in reducing the level of no-shows or cancellations," said Canaday. "This is especially important because we have a large community of patients to take care of and having an empty chair isn't good for them or us."
Ultimately, Canaday brings it back to culture and relationships. He has worked to build and establish a culture within his team that values the importance of internal and external relationships to finding and implementing technological solutions needed to fulfil the mission of the school. This has led them to become integrated within all aspects of the school's operations.
"We've really integrated ourselves into our environments. We meet regularly with finance and human resources, clinical operations managers, instrument management staff, administrative leadership and even our Dental Implant Committee to gain understanding and create value within each group," said Canaday. "It's about the people and the processes, and also the data created in each area. When you combine the data with relationships built on communications and understanding, you can accomplish incredible things and bring a lot of value to the table."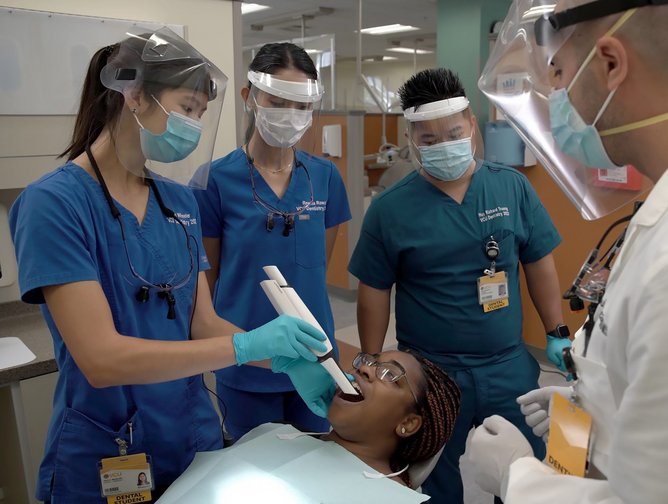 VCU School of Dentistry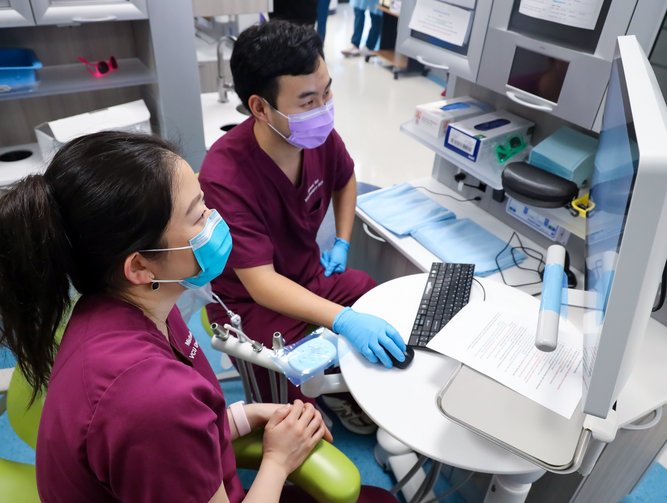 VCU School of Dentistry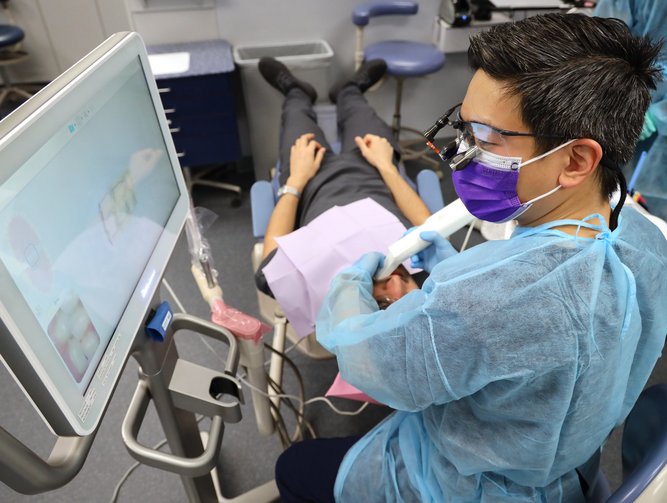 VCU School of Dentistry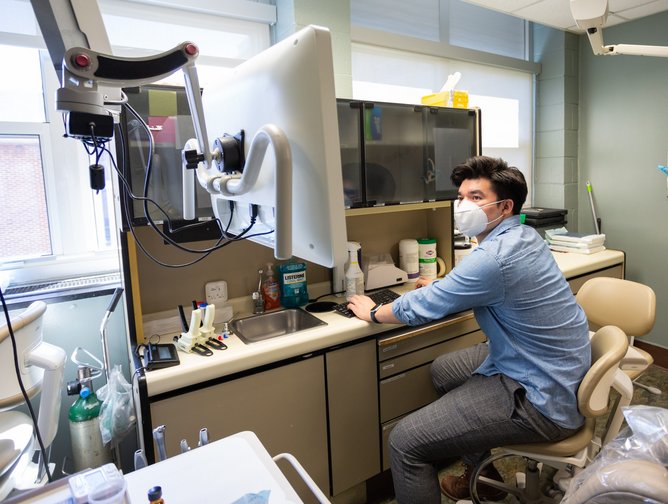 VCU School of Dentistry