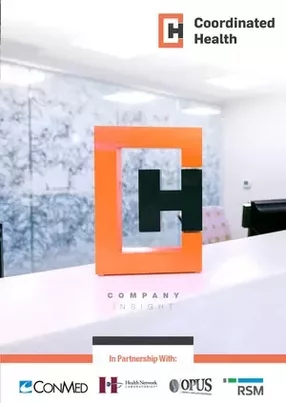 How Coordinated Health is disrupting the world of healthcare one specialty at a time
Michael Rinker, Director of Supply Chain Management at Coordinated Health, explains how the business has carved out a niche in the healthcare world and...
Healthcare in America is a dynamic and complex industry. Although people are becoming healthier, medical treatment grows ever more complex. As a result, expenses increase and private companies in the sector become increasingly specialized. Coordinated Health is a healthcare organization that has developed a sense of focus to create a convenient, accessible health system for residents of north-eastern Pennsylvania and western New Jersey – regions the company is swiftly dominating.
Coordinated Health was founded by CEO Dr. Emil DiIorio in 1988 with a vision to change and simplify how healthcare is delivered. He believes that it is an industry which requires disruption, and has therefore spent nearly 30 years narrowing and streamlining the company's service lines.
Being physician-owned makes Coordinated Health inherently different from other traditional healthcare providers, ensuring a strong patient-first focus across the business's 17 locations (two hospitals, one surgical center, and 14 clinics).
Michael Rinker is the Director of Supply Chain Management at Coordinated Health and serves as the direct link between physicians, administration, third party vendors and clinical staff. He is responsible for contract negotiations, vendor management, performance management, and operational materials management across locations.
So what, in his words, differentiates Coordinated Health?
"We provide a premium level of patient care at a tremendous value," he says. "We don't attempt to be everything to everyone. Instead, Coordinated Health provides targeted services to a core set of patients in the region at an affordable rate. Patients appreciate having access to a variety of services within our continuum of care. Patients are looking to be more informed with their healthcare and are not willing to pay a dollar more than they need to for top quality care – that's what we provide."
Coordinated Health specializes particularly in sports medicine, total joint care, orthopedics, and women's health, and boasts over both 100 physicians and physical therapists on its team of 1,200 staff. The company's physicians perform the highest number of joint replacements in its region.
"In the first year of our Strategic Sourcing Program, we were managing a market basket of Physician Preference Items totaling several million," Rinker explains. "We began to strategically source all of our knee, hip, and shoulder implants at about a 20 percent savings. In year two, we focused our efforts on spinal implants and sports medicine implants and continued down the same path of renegotiating contracts," said Rinker.
With a background in management consulting and most recently in the area of healthcare, Rinker understands the unique challenges surrounding the re-negotiation of surgical implants and supplies. At Coordinated Health, he draws on his experience in physician integration, spend analytics, and contract management. Strategic communication with physicians and clinical staff is at the heart of Coordinated Health's successful program.
"The critical focus areas from a supply chain management perspective for hospitals cover two core components: operational materials management – which ensures that implants and supplies are ordered, received, shelves are stocked, and inventory is managed – and then you have the strategic side of the business covering negotiation, spend analytics, and integration with surgeons and administration," Rinker says. "The positive thing about Coordinated Health is that we've got our arms around both of these areas. We understand how to integrate with physicians and educate them with the data that helps them understand how to collectively engage with our strategy. When you look at healthcare, the key divide is generally covering the availability of concise metrics and the willingness of physicians to collaborate and engage on cost containment initiatives."
Everything in healthcare is going digital, and despite the industry being at least 15 years behind corporate America in terms of digitalization, businesses like Coordinated Health are leading the pack. Coordinated Health is looking to streamline and organize its IT infrastructure globally, across its supply chain and its care offerings, and the team is continually searching for opportunities to modernize and simplify.
"The core of everything we do surrounds data," says Rinker. "When I arrived at Coordinated Health more than two years ago, we didn't have consolidated access to a core set of data, and we didn't have access to data that was cleansed, categorized, normalized, and able to be analyzed in a way that was valuable. From the ground up, I worked with our business intelligence (BI) team to cleanse and categorize our data, so that the BI team could build the platform and load the data onto it. We're then able to take that data and present it to the physicians in a way that showed their utilization and cost, plus overall cut-to-close times in the operating room versus their peers. This opens up a level playing field and opportunity for conversation among physicians. Three different doctors could be doing the same procedure with different implants and different performance metrics, and it prompts a discussion about what they can do to be better regarding costs, length of patient stay, cut-to-close times, and overall efficiency."
From the top down, CH recruits top caliber clinicians, surgeons (the majority of whom are fellowship-trained), support staff, and administrators, and the best talent is searched for in every vertical. Dr. DiIorio himself is an industry leader in thinking outside the box and healthcare strategy, according to Rinker. Because DiIorio was a surgeon himself for 30 years. That combination supports the business's strategy in terms of what it looks for in employees, enabling it to provide a service of tremendous quality and value.
CH CFO Linda Chen praises Rinker's dedication to execute efficiency through his leadership. "We have seen an evolution in the way supply chain management is perceived across the company thanks to Mike," Chen said. "There's a high level of respect for the way he has engaged stakeholders at all levels to accomplish ". 
Coordinated Health has achieved its high level of expansion and established trust with patients by being, in Rinker's words, "strategic and nimble, and able to react quickly to changes in government regulations." In spite of being a regional healthcare player, Coordinated Health is able to modify itself and change direction quickly, and this has always proven a positive attribute for the company.
As a regional provider, breaking into new markets can be challenging but it has not stopped the company from branching beyond Pennsylvania's Lehigh Valley. In fact, Coordinated Health will soon be spreading even further into the Wyoming Valley – one of the most populous regions in the state. This new location has been identified as one which is underserved in the specialties Coordinated Health offers but hopes to provide modern, simple, affordable health to this region by the end of the year. Beyond that, Rinker has high hopes for further streamlining the business and improving its services every step of the way.
"In the next 18 months we will continue to look at sports procedures, spinal implants, and understanding the best ways to contract for the core set of services that the hospital needs – document management, medical records management, IT equipment, supplies, and dietary services," he says. "Second to that is the professional services, and the number one focus is labor. Those are the three core initiatives, and we're creating a category map which basically organizes all of the spend in a very standardized and understandable way, meaning we can assign different members of my team to work on specific task and develop everything at once."
Coordinated Health's dedication to the steady but constant evolution of its service has ensured an equally consistent level of well-deserved expansion, and with the efforts of Rinker, DiIorio, and their staff look set to cement a solid healthcare legacy.