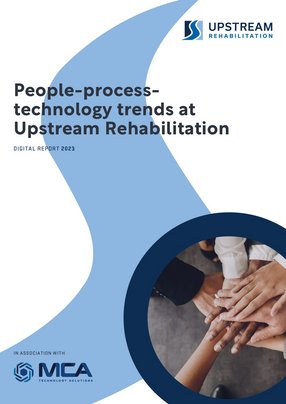 People-process-technology trends at Upstream Rehabilitation
Vice President of Information Technology for Upstream Rehabilitation Jeff Petet on working for a company that wants to help people
Each and every one of us has a different measure of success that we judge ourselves by. For some, it may be the amount of money earned or praise garnered that demonstrates achievement; for others, it may be simply putting a smile on someone's face.
At health provider Upstream Rehabilitation, though, success is measured by the trust and love patients and their families feel through the healing journey.
Currently, Upstream Rehabilitation is continuing its remarkable expansion across the United States. And though the company uses cutting-edge tech across its broad ecosystem of companies and partners, its technology team appreciates that humans will always be required.
Founded in 2004, Upstream Rehabilitation is a portfolio company of Revelstoke Capital Partners and, with 1,200 locations in 28 states, is the largest provider dedicated to outpatient physical therapy in the United States. Headquartered in Birmingham, Alabama, the company provides a comprehensive suite of outpatient and specialised physical therapy services through a network of industry-leading regional brands, including: BenchMark Physical Therapy, Results Physiotherapy, Drayer Physical Therapy, Elite PT, and SERC Physical Therapy.
Between the year of its launch and 2010, Upstream acquired several brands, including Benchmark PT, Preferred Therapy Providers and Integrity Rehab Group, building a fully-rounded healthcare service company. It also expanded its services across some of the midwest, southern, and Bible-belt states in the US to serve a vast range of people in need: Oregan, Washington, Georgia, Kansas, Missouri, Alabama, Louisiana, North Carolina, Texas and Arkansas.
In 2018, Upstream completed a merger with Drayer Physical Therapy. The following year saw it open 100 new clinics and acquire an additional 12, while also expanding its services into Iowa.
An additional 54 clinics were opened during the COVID-19 pandemic of 2020, with three more rounding off the portfolio that same year. In 2021, Upstream expanded further, opening more than 150 new clinics and acquiring Results Physiotherapy, enabling it to be granted the title of largest provider dedicated to outpatient physical therapy in the United States.

Mergers and acquisitions play a crucial role in growth
Jeff Petet is Vice President of Information Technology for Upstream, overseeing the company's strategic planning, implementation, and management of all IT functions. Before joining Upstream, he led a global software development team, having previously graduated with a Bachelor of Science degree in Computer Science from The University of Tennessee, Chattanooga.
"I love working in healthcare," says Petet. "I love working for an industry whose primary aim is to help people achieve optimal health; it really makes a difference. You're not just manufacturing widgets; you're working for a company that is there to help people."
A high point for Petet's team arrived, in his words, with the successful merger between Upstream and Drayer Physical Therapy in 2018, shortly after Upstream announced the completion of four partnership acquisitions in Washington, Colorado, Oregon and Tennessee, expanding its portfolio of physical therapy businesses.
"We evaluate many expansion opportunities every year looking for strategic partners that share our business philosophy and core values," said Dave Van Name, Upstream Founder and Senior Advisor. "Our merger with Drayer Physical Therapy, in addition to our newest partnership acquisitions, provides a tremendous opportunity to combine the strength of these businesses, continue our growth, and advance our goal to become the provider and employer of choice in the industry."
At the time, the combination of Upstream and Drayer created a single network of more than 560 owned-and-managed clinics in 27 states, serving over four million patients annually. "It took us almost two years to complete all the merger activities on the IT side," says Petet. "But that success was pivotal to ensuring the future growth of Upstream."

Exceptional care requires highest levels of clinical education
Upstream and its professional development organisation, Upstream Rehab Institute (URI), provide high-quality and innovative post-professional education for all clinical associates who join the Upstream family.
The company recognises the difference between average and exceptional care, the latter requiring the highest levels of clinical education and training. For this reason, Upstream is dedicated to leveraging its expert faculty and innovative delivery methods to offer the ultimate in post-professional clinical education via residency, fellowship, and continuing education programmes.
Upstream offers a competitive and comprehensive benefits programme to all of its associates, including: standard health benefits, featuring medical, dental, and vision options; ancillary health options, including short-term and long-term disability and company-paid life insurance; a health savings account, a flexible spending account and a 401(k).
In addition, Upstream provides all of its associates with paid time off, company-paid holidays, a company-paid volunteer day, annual continuing education allotments for clinical staff, adoption assistance, employee assistance programmes and access to a MedBridge learning management account.
Upstream understands that choosing a partner is one of the most important decisions a business owner will ever make, according to Upstream CEO Ronald Kuerbitz. "Whether you are looking for a partner to help accelerate your growth, to provide leadership and professional development opportunities, or to begin developing an exit strategy, aligning yourself with the right one is critically important.
"We have more than 600 partners that chose Upstream because they recognised the value of the resources we provide to help them achieve their goals. We're flexible in how we approach each partnership, and we understand that each of our partners may have different goals depending on their stage in life and future plans."
The Upstream mission is to inspire and empower the lives they touch, to serve its
communities, and lead with purpose-driven passion, says Kuerbitz: "We work diligently with our partners to provide excellent patient care, create more access to therapy in our communities, and ensure that therapy services are at the forefront."

Technology partners helps Upstream discover new technology
Upstream has grown more than 700 percent in the time Petet has been with the company. "When I joined, we had roughly 1,100 associates in fewer than 200 locations. Today, we have almost 8,000 associates and more than 1,200 locations. That has been a great deal of growth, in terms of technology to keep up with, over the last eight years."
Upstream employs several company-wide initiatives to continually improve efforts to collect, measure, and deliver the best clinical outcomes across the company. These include clinician development programmes, continuing education courses and resources, and independent and group learning opportunities that include grand rounds, physician shadowing, and journal clubs.
Upstream's Committee of Clinical Excellence – composed of Senior Therapists who lead panels in education, mentor support, professional engagement, student programs, and outcomes – helps the company ensure all clinical associates provide world-class patient care and deliver best-in-class patient outcomes.
"We also have great working relationships with our technology partners," says Petet. "I would say that we operate with them as true partners, not just vendors. Our partners help us discover new technology, expand our technology expertise, and increase our business performance by improving our associates' performance with that new technology."
MCA Technology Solutions has been a partner of Upstream prior to Petet's joining the company, but he says 2019 saw MCA become a strategic partner. "At that time, we were actively going through the largest merger in company history that began in 2018," he says. "We were experiencing a lot of turnover on our Tier 1 Service Desk team. I learned that MCA had a lot of experience in managing service desks for other large organizations and the great customer service they could deliver.
Petet made the decision in mid-2019 to outsource his Tier 1 Service Desk team to MCA and describes it as one of the best decisions in his tenure at Upstream. "We saw immediate improvements across the board on our Service Desk metrics," says Petet. "Again, our clinicians and back-office associates may not even be aware that we have outsourced our Tier 1 because we treat them as Upstream associates, and they represent themselves as Upstream associates. It has truly been a great partnership."

Cybersecurity a challenge as health care industry targeted
Petet says he faces many challenges in his role, but a number of them loom large each day – including staffing issues ("Find the right people at the right time," is his mantra) and interoperability when working with both partners and third-party service providers. "We're doing a lot of joint ventures, so we have to ensure that our systems can integrate with each other," he explains.
The ongoing digital transformation of the business also keeps his team very busy. "We're using technology to optimise processes for our associates, so they can better serve our patients," says Petet. "And, unfortunately, cybersecurity is a challenge due to healthcare continuing to be the target of bad actors. Cybersecurity – and information security in general – is very important to me."
Petet continues: "I'm always here to be a proponent for the information security field, especially in healthcare, because we need to keep our systems online"
Technology is embedded throughout the Upstream ecosystem of companies, explains Petet, thus producing a large amount of internal and external data sets. "And the integration of that data allows us to see how we're doing compared to our appearance in the industry, how our patients feel, and how we're doing against our internally-set benchmarks," he says.
"Having this data available in near-real-time allows our leaders to make quick data-driven decisions that support and improve the patient experience, while also previewing a clinician experience with better outcomes for our patients at lower costs.
"When it comes to digital transformation, we're using technology not just to modernise existing processes, but also to revamp the processes. It's all people-process technology, so you're using technology to automate things where you can," says Petet. "And that's one of the things that we want to do: we want our clinicians to operate at top of licence by automating as much as possible."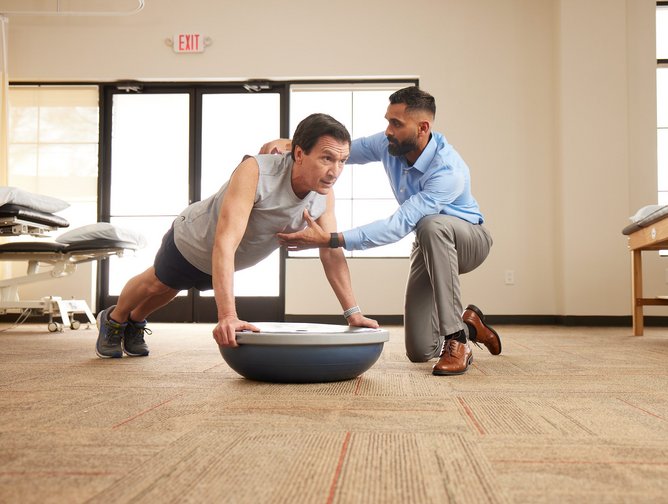 Upstream Rehabilitation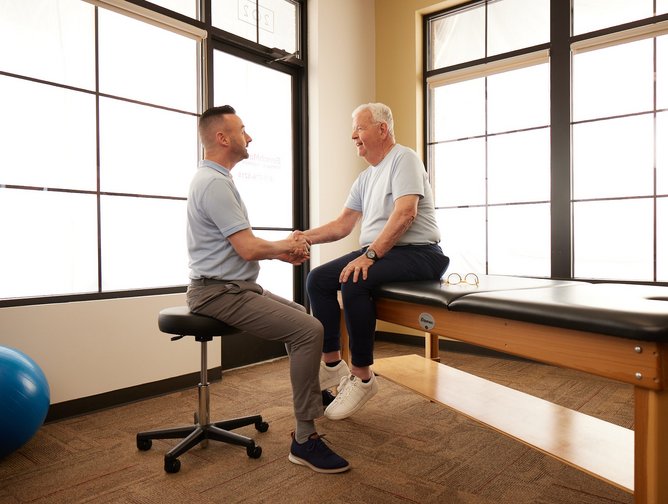 Upstream Rehabilitation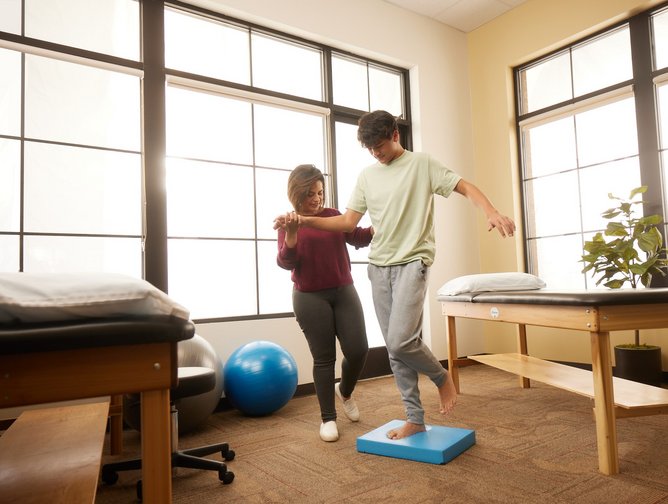 Upstream Rehabilitation
Upstream Rehabilitation