Connectivity for diabetes care in the new normal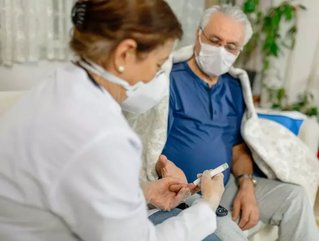 What does the future of diabetes care look like, post-Covid...
E. Graeme Harvey, Digital Product Marketing Manager at Roche, developed the Accu-Chek Snap and is leading the development of the Roche Diabetes Care Platform. Here he writes about what the future of diabetes management might look like. 
As the US works towards opening up, what is the safest way forward for people with diabetes? What is the new normal for everyday diabetes management that will result in optimal blood glucose control and positive outcomes? How will consultations with healthcare professionals be handled? Many questions, yes, but the solutions have the same foundation: advanced technology that enables efficient and effective virtual connectivity.  
The prevalence of diabetes will increase by 54% to more than 54.9 million Americans between 2015 and 2030, and this chronic disease continues to be a significant strain on the healthcare system. Studies show the ability to personalise treatment improves clinical outcomes and reduces costs. 
Connectivity using advanced data management tools and resources will play a significant role by supporting doctors, hospitals and clinics with efficient and effective processes that enable faster, more accurate decision-making and better patient-doctor collaboration that improve patient adherence to treatment, understanding and self-management.
To be sure, the COVID-19 pandemic threw the spotlight on the role of technology in diabetes management, but its growth has been underway for some time. Telemedicine technology for patient consultations, for example, is an increasingly valuable resource that was quickly recognized by the Centers for Medicare & Medicaid Services (CMS) when it broadened access to Medicare teleheath services, so beneficiaries could receive a wider range of remote services from healthcare providers.  
Additionally, one-on-one digital services such as app-based logging and personalised coaching from a variety of sources, such as mySugr, help guide compliance and goal achievement, especially while people stayed at home. 
As restrictions continue to lift, seamless connectivity among people – both those with diabetes and their healthcare providers, including the pharmacist - will increase in importance. What's next is the addition of connectivity among people, products and data.  
People with diabetes utilise a number of devices and tools in their daily lives, such as disease management tools like blood glucose monitors, apps for diet and tracking tools for fitness such as FitBits. Digital solutions that track and store this information and then align it with clinical data, like blood sugar patterns, will allow for more efficient virtual consultations, enabling providers to manage resources and triage patient concerns quickly and easily.
All this information can only be valuable if it is easily accessible. This raises issues of security for digital collection and storage. Digital health and its ability to continue to be leveraged by health care systems and trusted by the patients is predicated on the healthcare systems and industry working together, to make sure data is protected to the nth degree.
The post-pandemic world will unfold in many ways that cannot be anticipated. However, based on what we know now, and can anticipate for diabetes care moving forward, digital connectivity is key.  
Technology that collects and harmonises data from different devices, facilitates better communication, improves consultations and streamlines the workflow for both the clinic and the patient are all within reach. It is a future I am excited to be invested in, and believe it will continue to revolutionise the way diabetes is treated, managed and even prevented.