Digital health passports - 4 quick facts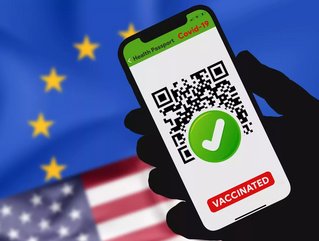 The rollout of a digital health passport has become the subject of much confusion and debate. Here is we know so far.
As COVID-19 vaccination programmes roll out around the world, policy makers and the private sector are engaged in intense debates over vaccine passports and whether they are the solution to re-opening economies and getting back to "normal". 
With various governments using different systems there is confusion over how universally accepted a digital health passport will be, and whether our private data will remain private. Here is we know about vaccination passports so far. 
1. Many countries will require proof of vaccination status 
Most international travel has been on pause during the pandemic, with strict quarantine measures in place around the world. For travel to "open up" again, it is likely that vaccine status, COVID-19 status or a combination of the two will be required before you're able to enter another country. 
The European Union is behind a "Digital Green Certificate" that would enable people to show they have been vaccinated, had a negative test, or have recovered from the virus in order to travel across its 27 member countries, although MEPs have also said these will not be a precondition to exercise the right to free movement.
The UK is planning to use its existing National Health Service (NHS) track and trace app as a health passport for British people to travel abroad.  
There are no plans to implement a nationwide health passport in the US so far, and there is fierce, partisan opposition to the idea; however Hawaii and New York State have launched passport programmes that enable vaccinated people to skip quarantine for inter-state travel. 
Health passports are also being contemplated by the hospitality and entertainment industries - for example for entry to live music events and bars. Israel, which has the highest vaccination rate in the world, has launched a "green passport" for people to show at gyms, venues and synagogues, however there have been problems with access and data privacy. 
2. They're not conventional passports - they're digital
Calling them "passports" is a bit of a misnomer, as most of the proposed certificates are digital. The CommonPass, for example, saves the user's test results onto their mobile device, along with any other necessary health screening information. The pass then generates a QR code which can be printed or scanned by airline staff to confirm the passenger's health status. It's already being used by major airlines including Lufthansa, United Airlines, and Virgin Atlantic. 
 In India, the health ministry has said that everyone who has been vaccinated will get a QR code-based electronic certificate. 
Additionally China has implemented an app-based health code system that uses travel and medical data to give people a colour-based rating, showing how likely it is that they have COVID-19 and whether they should self-isolate. 
3. Numerous tech companies have already created health passports
A number of tech companies big and small have already entered this space, with Microsoft's CoronaPass, IBM's Digital Health Pass, VaxAtlas and SafeFun among the many initiatives that have sprung up catering to different audiences - SafeFun is aimed at consumers to be able to socialise, while the SafeAccess app is specifically for workplaces. 
This raises issues around standardisation - with so many different types of digital passport available, there will need to be consensus from venues, businesses and airports on how they work and whether they are accepted. 
4. There are fraud and privacy concerns 
Research by McAfee recently found a growing black market for fake COVID-19 test results and vaccination certificates. 
Enforcing vaccine certification via an app would exclude people who do not own a smartphone. It also has the potential to reinforce existing inequalities, for example pregnant women, who are currently ineligible for vaccination in many parts of the world, and would therefore be unable to participate in the same activities as non-pregnant women. 
Last but not least, many have raised concerns over data privacy, which is a major cause of the divisions over whether or not to adopt them. Experts have said they fear vaccination information could be linked to other personal data to create a "personal risk score" that could then be subject to abuse.