How COVID-19 opened healthcare's digital front door
By Adeel Malik, Bilal Naved and David Zbarsky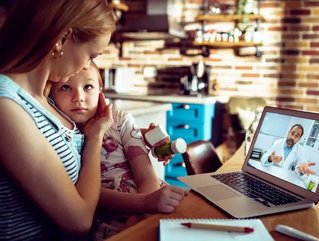 Adeel Malik, Bilal Naved and David Zbarsky, co-founders of symptom checker Clearstep, on the growing importance of the "digital front door" in healthcar...
The coronavirus pandemic brought with it tragedy. At the same time it brought ingenuity from medical professionals. Although the virus' first wave strained healthcare systems, doctors continued to work tirelessly to contain the deadly pathogen. State and federal agencies encouraged new innovations to combat the spread of the virus, resulting in the creation of symptom checking services, contact tracing programs, and the acceleration of telehealth.
While these virtual resources for patients existed before the pandemic, they have become crucial components of our healthcare infrastructure in a time of emergency. With waves of COVID-19 sweeping the United States, patients need effortless ways to seek answers. Easy access points to the healthcare system are needed for all types of patient needs, whether it's a virtual checkup, in-person testing site locations, or wait times at emergency rooms. To get to these life-saving resources, patients need a "digital front door." 
Outside of healthcare, the most successful companies build infrastructure for customers to access their services. When someone turns on an iPhone, or orders a product off Amazon, they enter an integrated system connecting them to where they want to go. These solutions make the experience as frictionless as possible; Amazon, for example, offers a 1-click "Buy it now" option. We find these seamless experiences in many areas of our lives, including shopping, transportation, groceries, and even dating.
The healthcare industry has lagged behind on such innovation, finding itself at the center of partisan showdowns, bureaucratic red tape, and an opaque transactional system leaving everyday individuals at a loss for what their care should cost them. 
Although a steady stream of patients need to engage with their healthcare providers, the current system is too confusing for them to find the right entrypoint. Patients are forced to leave messages asking doctors to call them, inquiring about test results, or otherwise seeking care. When patients go online, they are flooded by a sea of conflicting and confusing information. How many of us have searched for symptoms on the internet to be left more anxious and uncertain about our health, what to do, and how much it will cost?
With the cooperation of private sector and government actors arising from the pandemic, the healthcare industry is at a unique point to change the patient experience. New "digital front door" solutions allow patients to seamlessly navigate their healthcare experience from the comfort of their homes, eliminating the need for continuous work and outreach to providers for answers, while expediting timelines for next care steps. With the limitless capabilities of the internet, it is a natural and necessary migration for healthcare to offer these digital experiences.
Health systems have historically struggled to harness the power of digital technology to improve access to care, due to the influence of legacy technologies, disparate and inaccurate patient, provider, and facility data, and missing infrastructure to enable a connected patient experience, particularly for online appointment scheduling. The complex dynamic between providers, health insurers, and patients has yielded an opaque financial system with no standardization and hundreds of variations of pricing models, making transparency difficult.
In the face of these challenges, however, innovative technologies emerged to fill the gaps towards a more connected, digital experience. Interoperability solutions like Redox have made patient (and other) data exchange easier. Provider data management and aggregation solutions like Kyruus and Ribbon Health are making provider data easier to access, more accurate, and simpler to build online scheduling around. 
It is also easier to electronically access any individual's health insurance information via integrators like Eligible. Digital front door companies like Clearstep are enabling patients to more easily navigate the healthcare system by engaging them in an AI chat to understand their symptoms and match them to the most clinically relevant and convenient care options. 
By marrying virtual triage with price transparency and online scheduling, Clearstep is building upon the aforementioned innovations in interoperability, provider data management, etc. to create a truly connected experience for accessing care. While many of these technologies were already gaining traction before the pandemic, COVID-19 accelerated progress towards advancing them and building the connected digital experience patients deserve.
The response to COVID-19 demonstrated that Americans across all age groups are willing to engage with digital technologies to find and access care. Hundreds of healthcare organizations, including the CDC, released triage chatbots used by millions. 
Teladoc and Amwell have reported tremendous increases in virtual visit volume. Teladoc is averaging 15,000 patient visits a day in the U.S., 50% higher than in February. Amwell has seen a 350% increase from the normal expected volume of calls. This change in healthcare consumer behavior should inspire confidence in healthcare organizations to continue investing in ways to make it easier for patients to have transparent, digital, and easy access to care.
Just as scientists study coronavirus and prepare to roll out vaccines, technology and healthcare companies continue to navigate how to best respond to outbreaks. If the first wave of the coronavirus pandemic accelerated healthcare's transition to digital healthcare, then the next stages will shape how patients continue to access vital healthcare resources.