How the PainPad is improving the accuracy of pain data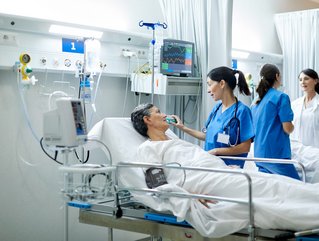 Healthcare workers supporting patients
Professor Blaine Price, Digital Health Lab co-Director at The Open University, reviews pain data & how the PainPad is improving healthcare
"The traditional method of patient pain monitoring through a written diary entry has proved to be inaccurate," says Professor Blaine Price, from The Open University. "The written diary method approach can have limitations due to memory bias, subjectivity, compliance issues and the inability to capture real-life changes."
To help combat these limitations, Price and Dr Daniel Gooch, along with Professor Oli Pearce from Milton Keynes University Hospital, have created an innovative solution called the PainPad. This enables patients to conduct more frequent and accurate pain readings through either a handheld digital device or an app on their smartphone.
"The PainPad allows patients to monitor their pain levels which ultimately gives clinicians a better understanding of their pain experiences which can help achieve better healthcare outcomes. Keeping pain levels under control can be an important factor in early discharge and the device is improving the quality of pain data which can help patients on their road to recovery."
Helping healthcare professionals understand pain
Patients tracking their own pain levels provides healthcare professionals with comprehensive details about their pain.
"This valuable information enables healthcare professionals to gain a deeper understanding of the patients' pain which helps to support healthcare providers in making more informed decisions about pain management," says Price.
By reviewing PainPad data, clinicians can observe:
The impact of prescribed treatments
Medication adjustments
Other interventions on the patient's pain levels.
This feedback is invaluable for refining and customising treatment plans to optimise pain management.
"Continuous pain monitoring enables healthcare professionals to also track and analyse pain trends and patterns over an extended duration," Price tells us. "This approach helps healthcare professionals to identify any changes in pain severity, frequency, or triggers, which could uncover underlying causes or provide clues for diagnosis. Understanding common patterns and trends can guide healthcare professionals in tailoring treatment plans to address the specific needs of the patient."
Supporting early hospital discharge and saving healthcare workers time
Patients' pain self-tracking can also help healthcare professionals to allow for early discharge. Early discharge can in turn support hospitals, allowing for more efficient resource allocation and increased capacity to accommodate new patients.
"The tool helps improve communication between the patient and the healthcare provider which can expedite the recovery process," Price says. "Early discharge can be facilitated by the ability to identify patterns and trends in the pain data. This information allows for timely adjustments to the treatment plan, leading to improved pain control and a potentially shorter hospital stay."
As well as helping out-patients at home, the main use of the PainPad so far has been to save time for nurses. In-patients (after joint surgery, for example) can take a participatory role in their own care, so it erases the need for nurses to frequently monitor patient pain levels.
"With nursing time being extremely precious, technological advancements such as the PainPad can allow nurses to focus on priority patient care, delegate resource more effectively and improve the overall efficiency of healthcare delivery. Self-monitoring pain levels can speed up the care process as nurses can quickly identify patterns and trends, helping them to make more informed decisions about pain management, saving them time in the long run."
For more information on the PainPad visit here.