Infermedica adds Specialist Recommender to its AI platform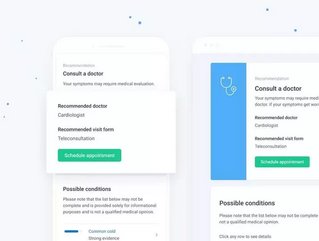 The new function will recommend specific specialists to pre-diagnose patients...
Poland-based healthtech startup Infermedica has launched a new function for its AI-based platform for preliminary diagnosis, that will recommend a specific specialist for pre-clinical triage. 
The new tool, called Specialist Recommender, will enable direct integration with clients' booking systems, facilitating more streamlined medical care by shortening the path from patient to specialist. 
The tool was developed over 6 months, in response to clients' requests to provide patients with more tailored advice in addition to initial triaging suggestions. The function allows healthcare and insurance providers to recommend a specific specialist, drawing from a list of 27 clinicians including pulmonologists, haematologists and allergologists. 
Infermedica is available in almost 30 countries, and this new function allows for regional differences in specialist accessibility, regulations, and clinical practices. Different types of communication channels (in-person, video, text or audio teleconsultations) will also vary depending on availability.
It is free of charge to existing Infermedica clients and available in all 18 of Infermedica's supported languages. The company's clients include insurance giant Allianz, medical cost management organisation Global Excel and healthcare providers Sana Kliniken and Médis. Infermedica's technology also plays an important role in the operation of Microsoft's Healthcare Bot. 
Commenting on the news, Maciej Malenda, Infermedica's Head of Partnerships, said: "Our clients, which are predominately healthcare and insurance providers, wanted to give patients more granular medical advice, so we moved quickly to develop the unique Specialist Recommender. 
"A natural evolution of digital pre-diagnosis and triage processes, the feature will help quicken patient recovery by providing deeper, more tailored medical advice with direct instructions about who they need to see to help with a particular health issue. Our solutions continue to drive the industry forward through making healthcare more accessible and improving people's lives for the better."
Infermedica's AI-driven platform is available via three different interfaces: a customisable API which can be integrated into clients' sites; a white-label Symptom Checker that is available as a chatbot; and the Call Center Triage solution that enables telemedicine personnel – often at insurance and healthcare providers – to pre-diagnose patients.