Lenovo's move from laptops to digital healthcare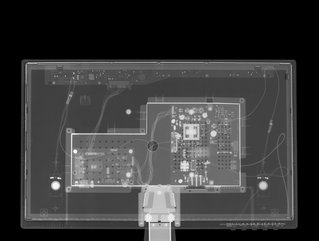 Lenovo is best known for its laptops, but a new venture is moving the company into digital healthcare. Senior Director Paul Burke explains why
Alongside home-baked banana bread and online-schooling, digital healthcare is a part of the new normal.
As a Fortune Global 500 technology company, Lenovo's 63,000 employees work to bring its technology to where it's needed. Formerly, this was mostly laptops, but the company is entering the digital healthcare space, with more than 3,000 organisations using Lenovo technology solutions.
The senior director for Lenovo's North American OEM business, Paul Burke, has spent close to two decades at the company and is ready for this new venture.
"I've been in the IT business for probably more than I'd like to admit, but I've been in the IT industry for quite a while", says Burke. "I joined Lenovo back in 2005, and I've been here ever since. It's been an exceptional journey."
Lenovo is behind the best-selling laptop brand - headquartered in Quarry Bay, Hong Kong and founded in 1984, the company has a revenue of US$60bn.
"The company is very forward thinking", says Burke proudly. "We come to market with really high quality products, we're exceptionally focused on the customer experience, and it's those types of interactions and conversations that just are super exciting."
Lenovo OEM solutions works with some of the biggest brands in the world, to help them grow their products and solutions on the Lenovo technology foundation.
"We provide the compute for the foundational components for solutions that companies build, and ultimately bring to market", explains Burke. "In this particular conversation, we would be the hardware platforms that companies are building medical solutions around."
Lenovo's advance into healthcare
Now, Lenovo is working with LG Electronics, to advance new medical imaging solutions for the radiology community - something Burke is very excited about.
"Lenovo has been in the healthcare OEM space, providing hardware platforms to healthcare companies for a while now. Whether it's our servers, our work stations, our desktops, or our tablets", says Burke. "We have been working in this space for a very long time, providing solutions like:
Electronic health records
Medical imaging and x-rays
Nursing stations
Medical carts for dispensing medications, or for nurses to go from room to room.
"Most recently with the outbreak of COVID-19, there's been a significant explosion with home health, and our tablet products have done extremely well in that sector. With that said, and as I mentioned, we're very focused on the voice of the customer. Our customers were constantly coming to us and asking us... Our medical OEMs, were coming to us and asking us for a medical grade monitor that could be optimised with our workstations, so that they could provide the absolute best experience to their customers."
LG - "Life's Good" - was founded in 1958 and is headquartered in Seoul, South Korea, with a philosophy that focuses on 'people, sincerity, and sticking to the fundamentals' - a perfect fit for Lenovo.
"LG was really a natural fit", continues Burke. "When you think about LG's medical grade monitors, and when you marry those with our ThinkStation workstations, the optimisation between our two companies, the engineering collaboration that takes place between our two companies, it really does provide medical OEMs with an unprecedented value, from a price performance perspective.
"If I take that one step further, the other reason why we gravitated towards LG very quickly was they have a comprehensive portfolio of products. For us to establish one relationship with a company that has the breadth and the depth of medical grade monitors, made it super easy for us to engage with.
"The other thing that I would point out, and the other avenue that we always consider when we're developing relationships like this is... Of course, we want our products and LG's products to perform the best, right? That's foundational to building the relationship. Of course, you want it to be the best price performance. Beyond that, the two company cultures and from a sales motion perspective, they have to align."
Sometimes companies which have great technologies are brought together, but for one reason or another, their sales motions and their sales cultures don't see eye to eye. That's not the case with LG and Lenovo.
"We are on a very aggressive growth and customer acquisition plan", adds Burke. "Myself and my North American OEM sales team are in a very similar trajectory. Bringing the two of us together, marrying our technologies, having similar visions as far as growth is concerned, it was just a natural fit for us to get together with LG."
Moving from laptops to healthcare
Lenovo is known for its computers, less for its impact in digital healthcare. Where did this additional direction come from?
"Our legacy reaches back to the IBM days. The ThinkPad brand, and the Think brand at large is just very well known in the industry. It's kind of a natural extension if you will, because everything these days has gone digital.
"With our legacy of our products, with the high quality, the extremely reliable products and the high performance, it just was a natural progression into this digital age that we've all become a part of."
With that in mind, what does the future hold for digital healthcare at Lenovo?
"You know, that's a fantastic question. I would have to say, I think we're only just scratching the surface", says Burke. "Of course, with the explosion of electronic health records, that has absolutely fueled the marketplace. Now when we start talking about home healthcare and other technologies, the digitisation of healthcare is only going to continue to accelerate from here on. I think that we've only just scratched the surface."