Sweatcoin: Financial prescribing and preventive health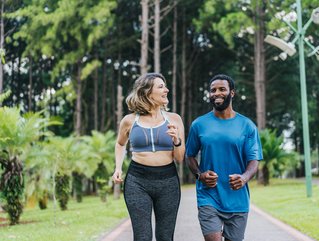 Global health and wellness company Sweatcoin
To fight diabetes , Anton Derlyatka Sweatcoin CEO, is revolutionising the approach to physical well-being by inspiring exercise with financial prescribing
Anton Derlyatka is the CEO and Co-Founder of global health and wellness company Sweatcoin, a company on a mission to inspire the world to move more, using rewards and gamification.
"Sweatcoin users are encouraged to increase their daily activity levels by receiving in-app loyalty points, known as Sweatcoins, for their steps," explains Derlyatka. "These can be redeemed for products in the in-app marketplace and for getting involved in competitive in-app step challenges with friends and colleagues."
Derlyatka's role as CEO is to motivate and uplift people on their physical health journey, making staying active an enjoyable, fulfilling and incentivised experience.
"With over 140mn downloads worldwide, we aim to motivate people to increase their movement," he says. "This concept is at the core of our financial prescribing model, which encourages people to stay active and prioritise their physical and mental health."
Here, Derlyatka tells Healthcare Digital more.
Hi Anton! What is financial prescribing?
"Like social prescribing, financial prescribing aims for patients to be referred to a range of local non-medical interventions (such as Sweatcoin). Instead of referring patients to non-clinical activities to upkeep their motivation, financial prescribing relies on using vouchers, goods and products to incentivise patients to keep steady on their fitness journey resulting in long-term behavioural change.
"The main barriers in healthcare, even when it is free for all, are:
Availability
Accessibility
Cost
"Sweatcoin has been built as a product that can be used by anyone who owns a basic smartphone and is extremely easy to understand and use. Unlike social prescribing, which has been critiqued, a financial prescribing model, such as Sweatcoin, is free and readily available for anyone to use, with brand partners typically bearing much of the cost of rewarding participants."
How does this support people with long-term health conditions such as diabetes?
"Sweatcoin can act as a psychological nudge to users and empowers them to take charge of their health by attaching a tangible, physical value to their efforts via immediate gain.
"Those at risk of developing Type 2 diabetes can significantly reduce their chances by participating in prevention programmes, eating a balanced diet and exercising. Being active makes your body more sensitive to insulin (the hormone that allows cells in your body to use blood sugar for energy), which helps manage the illness. Exercise also helps control blood sugar levels and has been statistically proven to lower a person's risk of heart disease and nerve damage.
"When integrated with prevention programmes, Sweatcoin supports people with long-term health conditions by providing them with the means to become intrinsically motivated to think more about the long-term benefits of moving, which directly impacts their health. "When people move more, their self-confidence improves and they are more motivated to participate in physical activity, which helps them maintain their overall fitness level."
Do you think empowering patients is an important part of their road to recovery?
"Empowering patients through physical activity is a critical part of their recovery. During our Decathlon Diabetes Prevention trial, we found those who used Sweatcoin consistently and engaged with the reward programme were most motivated to participate in physical activity.
"As it has been well documented, walking has been shown to have numerous physical health benefits. Walking, though often underrated, can help prevent and manage chronic diseases such as cardiovascular disease, diabetes and obesity. Taking a daily stroll can be crucial for maintaining a healthy body and reducing the risk of various health conditions.
"Physical activity also plays a significant role in mental health and well-being. It has been proven to reduce symptoms of anxiety, depression and stress. Exercise stimulates the release of endorphins, which are natural mood boosters.
"Until now, an average of only 20% of individuals with pre-diabetes successfully finish Diabetes specific programs. Nevertheless, the completion rate significantly improves when Sweatcoin technology, along with its gamification and rewarded-movement approach, is combined with face-to-face meetings, lectures and activities.
"In our most recent study, completion rates reached an impressive 92% and participants walked an average of 45% more."
What is the Decathlon Diabetes Prevention programme?
"In collaboration with Richmond and Wandsworth Public Health, Sweatcoin expanded the 'Prevention Decathlon Type 2 Diabetes Prevention Programme in targeted areas of Richmond and Wandsworth.
"The programme takes the form of a 10-week structured education and exercise programme designed to help people avoid being diagnosed with preventable long-term conditions such as diabetes and cardiovascular disease.
"Participants attended weekly meetings and, within their teams, discussed how to reduce their risks best; through theory sessions, games, discussions and 45-minute physical activity sessions that included a variety of sports activities.
"In this programme, patients were also provided with the option to earn Sweatcoins by watching recap videos and participating in weekly quizzes.
"Out of seventy patients, Sweatcoin saw 74% participation from ethnic minorities, and people lost 3kg in weight on average. The results show that of all those that take part, 85% are likely to lose weight, with one in 10 of those likely to lose 10% of their body weight.
"One participant in particular lost 10.3kg, 16% of their total body weight, during the 10-week programme. Patients increased their daily step count by 45% between the start and end of the programme, while one moved a staggering 336% more than before the trial.
"Overall, the Decathlon Diabetes Prevention Programme was an example of the impact financial prescribing and incentivisation can have when implemented."
Why have governments historically failed to find localised solutions to diabetes and obesity prevention, and what can be done to move forward?
"The failure of governments to find localised solutions to diabetes and obesity prevention can be centrally attributed to a lack of prioritisation. Historically, health services have focused on curing patients rather than preventing long term illness.
"Governments have often adopted a fragmented approach to addressing diabetes and obesity, focusing on individual interventions rather than comprehensive, multi-sectoral strategies. This approach can result in a disjointed response as while there are national programmes, commissioning often happens at a local level.
"Instead, governments should invest in research and surveillance to understand local contexts, risk factors and effective prevention strategies. This evidence can inform policy decisions and guide targeted interventions.
"Nevertheless, we're currently seeing a shift in the government's approach. Recently we've seen the government attempt to educate patients by introducing calorie labelling to fast food menus. We've also seen a surge in trials and prevention programmes which look to support patients through their use of weight loss drugs.
"While we're pleased to see the government putting a focus onto obesity, more must be done to empower people to take charge of their health. Easily implementable technologies and preventative treatments may be the solution to this as we've already seen the potential technology has in yielding longer-term results."
What are your plans for the next 12 months?
"Our main focus is on expanding the Decathlon program and partnering with more healthcare providers and regions in England.
"Our goal is for Sweatcoin to be prescribed by healthcare professionals. We are actively engaging with local and national government bodies as well as insurance companies who share our vision of a healthier and more active society.
"Ultimately, our aim is to create an 'economy of movement' that revolutionises public healthcare.
"We want incentivised movement to become a central element of preventive health strategies, supporting individuals in leading healthier and more active lives while reducing the financial burden of treating conditions caused by unhealthy lifestyles."
*********************************************
For more insights into Healthcare - check out the latest edition of Healthcare Digital and be sure to follow us on LinkedIn & Twitter.
Other magazines that may be of interest - Manufacturing Magazine.
*********************************************
BizClik is a global provider of B2B digital media platforms that cover 'Executive Communities' for CEO's, CFO's, CMO's, Sustainability Leaders, Procurement & Supply Chain Leaders, Technology & AI Leaders, Cyber Leaders, FinTech & InsurTech Leaders as well as covering industries such as Manufacturing, Mining, Energy, EV, Construction, Healthcare + Food & Drink.
BizClik, based in London, Dubai & New York offers services such as Content Creation, Advertising & Sponsorship Solutions, Webinars & Events.