Top 10: Healthcare Software Companies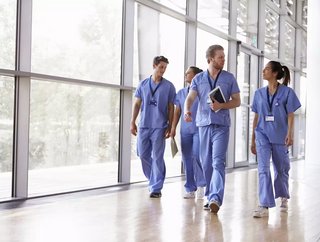 Healthcare systems
Philips, GE, Epic, McKesson, Meditech, eClinicalWorks, Veradigm, NextGen, Cerner & Athenahealth are our Top 10 software providers in healthcare
Software providers in healthcare offer a range of software solutions and services tailored to various aspects of healthcare, such as electronic health records, practice management, telehealth and revenue cycle management.
Here are our Top 10…
10. Meditech
Canton, Massachusetts, USA
42,000 employees
CEO: Howard Messing
Revenue: USD$493mn
Meditech offers a comprehensive suite of software solutions for healthcare companies.
Meditech Expanse is a web-based electronic health record system that supports clinical workflows and facilitates the management of patient information across care settings. It includes features for charting, medication management, order entry, clinical decision support and interoperability.
Meditech Expanse Acute Care is a comprehensive hospital information system (HIS) that covers various areas of hospital operations. It includes modules for admissions, emergency department management, bed management, laboratory information system, pharmacy and more.

LinkedIn: Meditech
Twitter: @MEDITECH
9. eClinicalWorks
Westborough, USA
4,000 employees
CEO: Girish Kumar Navani
Revenue: USD$800mn
eClinicalWorks provides a variety of software solutions for healthcare companies. Its electronic health record system, eClinicalWorks EHR, supports the management of patient information, clinical workflows and documentation.
eClinicalWorks Practice Management software focuses on streamlining administrative and financial operations within healthcare organisations and includes features for appointment scheduling, patient registration, billing, claims management and revenue cycle management.
Meanwhile, eClinicalWorks Patient Portal enables secure online access for patients to access their health records and make appointments.
LinkedIn: eClinicalWorks
Twitter: @eClinicalWorks
8. Veradigm
Chicago, USA
800 employees
CEO: Tom Langan
Revenue: USD$1.5bn
As a subsidiary of Allscripts, Veradigm provides software solutions which focus on clinical research, data analytics and population health management.
Veradigm provides its own EHR solution that is designed to improve clinical workflows. The EHR includes features for documentation, medication management, clinical decision support and health information exchange.
Veradigm's AccelRx is a medication management system that assists healthcare organisations in streamlining prescription processes, improving medication safety, and enhancing clinical efficiency. It includes electronic prescribing features, medication history management and medication reconciliation capabilities.
LinkedIn: Veradigm
Twitter: @Veradigm
7. NextGen Healthcare
Atlanta, Georgia, USA
3000 employees
CEO: David Sides
Revenue: USD$584mn
NextGen Healthcare has created a whole range of software solutions to support healthcare companies in managing their clinical, financial and administrative operations.
The population health management platform, NextGen Population Health, allows healthcare organisations to manage patient population data, which enables risk stratification, care coordination and proactive patient management.
In addition, the company offers NextGen Mobile, a mobile application that allows healthcare providers to access patient data, review charts, e-prescribe, and communicate with the care team on-the-go.
LinkedIn: NextGen Healthcare
Twitter: @NextGen
6. Athenahealth
Watertown, Massachusetts, USA
7,000 employees
CEO: Bob Segert
Revenue: USD$1bn
Athenahealth offers software solutions to support healthcare companies in managing their clinical and administrative operations, including AthenaCollector, a practice management software solution that focuses on revenue cycle management. This helps healthcare organisations streamline billing and claims management.
Another software solution is AthenaCommunicator, a patient engagement and communication software solution which assists healthcare organisations in sending automated appointment reminders.
AthenaClinicals is its electronic health record system which allows healthcare providers to document patient encounters.
LinkedIn: Athenahealth
Twitter: @athenahealth
5. Cerner Corporation
Kansas City, Missouri, USA
21,000 employees
CEO: Brent Shafer
Revenue: USD$1.5bn
Some of the notable software products provided by Cerner include Cerner Millennium EHR, an electronic health record system that serves as a central repository for patient information.
Meanwhile, clinical charting and documentation software solution PowerChart provides clinicians with access to patient data, lab results and medication records.
Cerner's SurgiNet is a management system that supports surgical workflows and includes features for scheduling surgeries and managing anaesthesia records.
LinkedIn: Cerner Corporation
Twitter: @CernerUK
4. McKesson Corporation
Irving, Texas, USA
21,000 employees
CEO: Brian Tyler
Revenue: USD$264bn
At McKesson Corporation, a range of software solutions have been built for healthcare companies to support various aspects of their operations.
InterQual is a clinical decision support software that helps healthcare organisations make evidence-based decisions related to patient care.
Horizon Clinicals is a suite of software applications that encompasses various clinical workflows. It includes modules for clinical documentation, medication management, pharmacy automation and clinical decision support.
LinkedIn: McKesson
Twitter: @McKesson
3. Epic Systems
Verona, Wisconsin, USA
13,000 employees
CEO: Judith Faulkner
Revenue: USD$2bn
Forbes magazine called Epic Systems CEO Judith Faulkner 'The billionaire who controls your medical records' and the company is indeed a leader in electronic health record software solutions built for healthcare companies. Epic EHR (or EpicCare) provides a comprehensive suite of software applications that support various aspects of healthcare operations.
Epic's Cadence is a scheduling and registration software module that facilitates the efficient management of patient appointments, meanwhile Epic Willow is a pharmacy management system which supports medication ordering, dispensing, and administration.
​​​​​​​
LinkedIn: Epic
2. GE Healthcare
Chicago, USA
55,000 employees
CEO: Peter J Arduini
Revenue: USD$17bn
For over 100 years, the impact of GE Healthcare has been felt around the world - from supporting healthcare providers with new technologies to improving outcomes for patients and the arrival of digital healthcare.
GE Healthcare aims to 'Create a world where healthcare has no limits' and uses a range of software solutions to do this.
The Centricity Electronic Medical Record is an electronic medical record system that allows healthcare providers to capture, store and manage patient data electronically.
Another form of software is the Centricity Perinatal, which was designed specifically for labour and delivery units, providing the best maternity care that can track maternal and foetal data, manage workflows and support communication among the care team.
The GE Health Cloud offers a cloud-based platform for healthcare organisations to store, share, and analyse clinical data.
Finally, GE's Mural Virtual Care Solution is a telehealth platform which provides virtual consultations and remote patient monitoring.

LinkedIn: GE Healthcare
Twitter: @GEHealthCare
1. Philips Healthcare
Amsterdam, Noord-Holland
73,000 employees
CEO: Roy Jakobs
Revenue: €17bn
At Philips, there's a belief that 'There's always a way to make life better' - from helping people to live healthily to preventing disease. That's why Philips takes such pride in supporting healthcare professionals with the tools they need to help patients - the best way to do this is with innovative software solutions.
Philips provides software solutions for remote patient monitoring and telehealth, helping healthcare professionals to support patients from afar, organise virtual consultations and deliver care outside of healthcare facilities.
Philips' Radiology Information Systems assists radiology departments in their appointment scheduling and patient tracking.
These are just a few examples of the software solutions provided by Philips Healthcare. The company continues to innovate and develop new technologies to support healthcare organisations in delivering quality care.
"The right to healthcare is universal and we are part of the system delivering healthcare," said CEO Roy Jakobs.

LinkedIn: Philips Healthcare
Twitter: @PhilipsHealth