National Healthcare CXO Summit
Sun 22 Oct - Tue 24 Oct, 2023
Encore Boston Harbor | Boston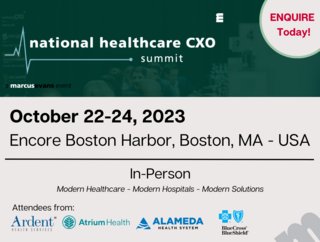 National Healthcare CXO Summit
National Healthcare CXO Summit – marcusevans
We are excited to announce that the NH CXO Summit returns on October 22-24 th ! The NH CXO
Summit is an invitation-only, premium Summit bringing leading senior level healthcare executives
and innovative suppliers and solution providers together. Renowned Healthcare Leaders such as
Brian Cotter - CEO (Gateway Regional Medical Center), Tiffany Murdock - CEO (Singing River Heath
System) and many more will speak and address contemporary litigation trends such as Technology
and Clinical Trials.
Enquire now via https://bit.ly/44Blmsc. Otherwise, directly contact Stavros Karelidis at
[email protected] or by phone at +1 646 741 3059.
Location
Encore Boston Harbor | Boston
MA | USA
View on map