The National Healthcare CFO Summit
Sun 21 May - Tue 23 May, 2023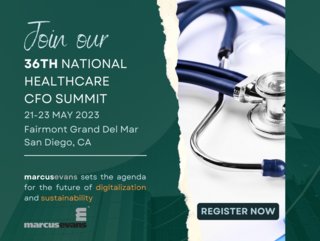 The National Healthcare CFO Summit returns! 21-23 May 2023 at the premium Fairmont Grand Del Mar, San Diego, CA, US.
We are excited to announce that the National Healthcare CFO Summit returns!
Leading Healthcare Chief Financial Officers representing Americas Foremost Hospitals and Healthcare Institutions and innovative Sponsors from around the globe gather on 21-23 May 2023 at the premium Fairmont Grand Del Mar, San Diego, CA, US.
The Summit provides a highly focused and interactive atmosphere to address and gain solutions specific to the core concerns of individual attendees.
The National Healthcare CFO Summit provides a platform that helps America's senior level healthcare finance executives evaluate and partner with relevant suppliers and service providers, while we connect innovative healthcare facilities with these senior healthcare finance strategists. This includes event meals, cocktail receptions and one-on-one business meetings.
The summit's content is aligned with key healthcare financial challenges and interests, relevant market developments, and practical and progressive ideas and strategies adopted by successful pioneers.
Key Topics for 2023
Navigating The No Surprises Act Evolution - What to expect from the recent changes
Tackling Epic Concerns - Levelling the playing field for new entrants
Impactful Revenue Cycle Management Trends - Significantly generating cash flow
Effective Payer and Provider Collaborations- Re-establishing payer-provider partnerships
Digitally Transforming Better Outcomes - Technologically enhancing patient engagement
Employee Safety in The Workplace- Physical and psychological protection for healthcare workers
Register your interest here or directly contact Stavros Karelidis at [email protected].
Location
Fairmont Grand Del Mar
San Diego
CA
USA
View on map