Arizona's First Adavanced Care Dental Clinic Opens at A.T. Still University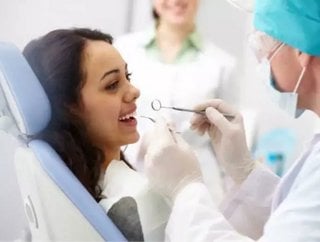 Written byAlix Friedman A.T. Still University of Health Sciences (ATSU)will celebrate the opening of itsAdvanced Care Clinicon Wednesday, September 18...
Written by Alix Friedman
A.T. Still University of Health Sciences (ATSU) will celebrate the opening of its Advanced Care Clinic on Wednesday, September 18. The 10,600-square-foot oral healthcare facility is Arizona's first to offer the expertise and equipment necessary to treat patients with complex medical conditions like cancer, hemophilia and kidney disease. The clinic also specializes in providing comprehensive oral healthcare to patients whose physical or developmental disabilities require dentists with advanced training. Expected to treat 7,500 people in its first year, the clinic began seeing patients in July.
Dr. Maureen Romer, associate dean of post-doctoral education at ATSU's Arizona School of Dentistry & Oral Health (ATSU-ASDOH)—Arizona's first dental school, founded in 2003—directs the clinic, which the school operates. A nationally known expert in special care dentistry, Dr. Romer is a past president of the Special Care Dentistry Association and has earned the association's highest level of recognition, Diplomate. She is a Fellow of the Academy of Dentistry for Persons with Disabilities.
Said Dr. Romer: "ATSU's Advanced Care Clinic fills a major gap in Arizona's oral healthcare needs. Until now, some residents with complex medical situations and special needs had to go outside the state to get the care they required, while others got no care at all. In opening this facility, A.T. Still University reaffirms its commitment to oral health as an integral part of overall health, as well as its determination to provide the highest quality of care to society's most vulnerable."
In addition to offering dental care to patients with cancer, hemophilia, kidney disease, organ transplants and other highly complex medical conditions, the clinic treats patients, including those with disabilities, whose general dental needs are complicated and require a team of dental specialists.
The new clinic has been outfitted with over $1 million in state-of-the-art equipment and technology, like 3D imaging. There are five dental operating suites, including one designed for patients who weigh more than 350 pounds. Extra-wide doorways make it easy for power wheelchairs to move through the facility, while reception and consultation areas are able to accommodate several power chairs at once.
In addition to serving as an out-patient dental facility, the clinic will be a training center in special care dentistry for ATSU-ASDOH students. Supervised by faculty members, third- and fourth-year dental students will spend time treating clinic patients alongside dental residents in the school's Advanced Education in General Dentistry post-graduate program.
(In keeping with ATSU's mission to care for America's underserved, ATSU-ASDOH students spend most of their third year working with Arizona citizens at the school's two reduced-cost clinics—one on ATSU's Mesa campus and the other in Glendale, Az. Fourth-year students spend a semester embedded at community health centers around the country.)
Like its other dental clinics, ATSU's Advanced Care Clinic accepts most insurance, including Medicare and Medicaid, and offers reduced-fee services.
Additional information about A.T. Still University's Advanced Care Clinic is available at www.atsu.edu/thecenter.