Birmingham's smart "super hospital" - need to know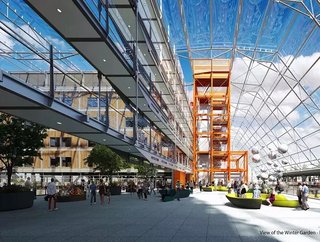 Midland Metropolitan University Hospital in Birmingham will use smart energy and infrastructure solutions from Schneider Electric
What Midland Metropolitan University Hospital has been labelled a digital "super hospital" for its state-of-the art technology, which will include diagnostic equipment like MRI and ultrasound machines provided  by Siemens Healthcare through a 10-year contract. 
The building will deploy Schneider Electric's EcoStruxure™ solutions for its power and control systems, enabling the site to use IoT technology to reduce the maintenance needed while improving patient safety and reliability while keeping energy consumption and costs down. 
The EcoStruxure™ solution includes consultancy services, connected products, advanced analytics and digital services, and the infrastructure will be fully connected to provide rich data. Connected products include smart controllers and switchboards. 
Additionally the 11-storey hospital will  also have a sickle cell and thalassaemia unit,  and is dementia-friendly, with colour schemes to mark out different wards and an external view from every bed so that all patients are able to see light changes throughout the day. 
Who The Sandwell and West Birmingham NHS Trust in England is responsible for the care of 530,000 people. In 2014 the trust agreed to build a new hospital to meet the needs of the growing population; Midland Metropolitan University Hospital is set to be the largest acute hospital in the region with 700 beds.
Why The decision was reached in 2014 to create a new hospital for the region to accommodate the growing population, which suffers from some of the highest levels of deprivation in the England. Life expectancy among both men and women is around three to four years less than the national average, and in some areas infant mortality rates are double the national average. One in five local people has a long-term health condition that affects their daily life. 
As well as providing more patient rooms to limit the spread of infection, the trust aims to provide more care in local settings, especially for long term illnesses. In a statement the trust said that "Midland Met will bring better facilities, but it is not a project about nicer buildings. It is about improving outcomes by providing better care."
When The hospital is set to open in 2022. In addition, Sandwell and West Birmingham has a mission to tackle ill health, deprivation and exclusion by 2030. "Prevention and public health must form a big part of all that we do, which is why the Trust has created a public health plan, overseen by the Trust's Chairman, and why the local clinical commissioning group has created its own public health team to make sure that long term needs are the heart of their decision making."