Investcorp partners with VAMED and Blue Apple Partners to construct a new mega hospital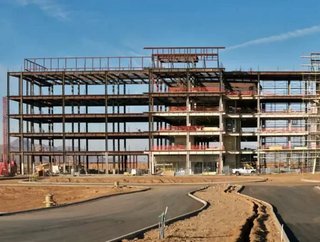 Investcorp, VAMED and Blue Apple Partners have partnered to construct a new landmark hospital complex on Reem Island, Abu Dhabi, UAE. Comprising a mod...
Investcorp, VAMED and Blue Apple Partners have partnered to construct a new landmark hospital complex on Reem Island, Abu Dhabi, UAE.
Comprising a modern and highly specialised Rehabilitation Centre, this will be combined with a Childrens' & Women's Hospital and a Family Medical Centre.
It is Investcorp's third healthcare deal, following on from the launch of its healthcare fund earlier this year.
Building on Investcorp's extensive investment capabilities, Vamed's deep operational expertise and Blue Apple's local market expertise, the first phase of the hospital will consist of a 100+ bed Rehabilitation Centre targeted to open at the end of 2019, which will aim to provide the highest standards in orthopaedic, cardiovascular, neurological, and oncological post-acute treatments and care for both in-patients and out-patients.
The facility will also harness cutting edge rehabilitation approaches and technologies and will be built and operated by VAMED.
The second phase will be a 100+ bed Children's & Women's Hospital, providing a full range of general and specialised paediatric surgery and treatments, as well as comprehensive gynaecology and obstetrics services supported by a Neonatal Intensive Care Unit. This facility will be operated by VAMED in cooperation with Charité from Berlin, Germany, one of the leading university hospitals in Europe.
An additional and essential feature of the overall development project will be a sizeable Family Medical Centre, which is also expected to open by the end of 2019, staffed by experienced family doctors providing holistic preventative care as well as all ambulatory healthcare services addressing family health planning and urgent care especially for children and women.
See also
Mohammed Alardhi, Executive Chairman of Investcorp, said: "We are aware of the growing demand for quality healthcare in the region and are keen to play a key role in its development in the short and long term. We are particularly proud to be part of this project in Abu Dhabi, where we have deep roots and strong ties as a firm.
"Our investment strategy and commitment to the healthcare sector is in line with the UAE National Agenda and long-term economic plans, under its Vision 2021. We are excited about this project and the growth potential of this sector as a whole."
Co-founder of Blue Apple Partners and Chairman Eng. Zaid Daoud Al Siksek, former CEO of the Health Authority of Abu Dhabi, stated: "Al Reem Hospital and Rehabilitation Centre represents an essential building block of Abu Dhabi's Vision 2030. It will provide the full spectrum of integrated primary, secondary and tertiary care in specialised rehabilitation services and gynaecology, obstetrics and paediatrics, areas where there are currently still significant shortages and ensure that Abu Dhabi is ready to meet the needs of its growing population."
The project is backed by an international consortium of investors led by Investcorp and highlights the ability of Abu Dhabi to attract foreign direct investment supported by the government's policies to encourage private sector participation. 
Supply of quality healthcare in the Gulf region still lags behind international standards and there is a significant gap of available and high-quality rehabilitation facilities in the UAE. 
Gottfried Koos, member of the VAMED executive board, added: "This will allow patients to have access to top quality rehabilitative treatments near their families, and the care they receive will be fully integrated with ambulatory follow-up care and prevention."