Kryon says automation is vital for the healthcare sector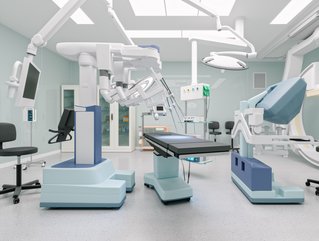 Israeli IT company Kryon says the healthcare sector needs to embrace automation in order to create more resilient hospitals & a better prepared industry
The global healthcare sector is under severe strain and on the edge of crisis, as nation states struggle under the pressures from recent coronavirus variants.
In the UK, absenteeism in the National Health Service rose by 38% in the last two weeks of 2021, with Hospital Trusts in London seeing a 122% increase in coronavirus employee sickness in a week. The knock-on effect of employee illness is the impact on patient care. In its report, the cross-party Health and Social Care Committee disclosed that 5.8mn patients were waiting to receive treatment in September 2021, 300,000 of which have been waiting for more than a year. The unintended consequence is the postponement of other equally important healthcare areas such as primary care, community services and mental health services.
These overwhelming increments paint the picture of a healthcare sector in need of reinforcement. As a result of such unprecedented change, the industry is primed to embrace technology automation technologies like Robotic Process Automation (RPA) which has become an important part of supporting healthcare systems globally. The impact is a resilient healthcare system for best-in-class patient outcomes pandemic or otherwise.
Hospitals can create a resilient healthcare system with automation
The global healthcare crisis has forced hospitals to accelerate the use of tools and processes such as RPA, to create much-needed breathing spaces in hospitals and build a resilient health sector.
The processes essential to the operation of healthcare facilities and the patient's medical journey are increasingly automated to drive efficiency, accuracy and cost-savings. This has been especially important during the pandemic as hospitals seek innovative ways to function closer to full capacity.
Processing patients, their data, and appointment schedules are increasingly automated in healthcare.
For instance, as COVID vaccinations gather pace, the continued scheduling of patients for booster shots is critical to lessening the impact of the pandemic. However, this manual procedure poses logistical difficulties and can be time consuming. Instead robots can be used to automate scheduling processes and unshackle professionals' time. Subsequently, allowing more time to focus beyond COVID related patient care.
Ultimately, Process Discovery (also known as Task Mining) and mapping every process across the healthcare industry will support staff in saving lives. Moreover, the increased visibility enabled by automated Process Discovery specifically, promotes ongoing operational efficiencies and process excellence by saving precious time and costs. Discovering all of the possible processes within healthcare organisations leads to better data collection - a crucial factor in navigating a pandemic and mapping individual needs.
The data pandemic and COVID-19
The COVID-19 pandemic has seen national data become increasingly important particularly in understanding how the virus develops and what measures can help to minimise the spread. However, on a national scale, gathering, processing, refining, and validating data from individual hospitals is complex. Data must be acquired from specific hospitals which will have their own data collection and processing protocols. But with humans processing gigabytes of data, errors are almost inevitable.
Add to that, the privacy parameters required around data handling and the need for anonymity for patient privacy, and you have a number of components to consider.
Automation can help streamline these processes efficiently and accurately. Overcoming the potential for a logistical minefield. Most importantly, healthcare and IT personnel can be freed to focus on what's really important – supporting patients and saving lives.
Successful demonstrations of RPA in action can already be found in medical facilities around the world. The Ministry of Health in Brazil, for example, used automation to overcome logististical challenges in its hospitals recently. Collecting and processing data using various processes for its population of over 200mn people was a staggering process. With automation, they increased accuracy and efficiencies while freeing up healthcare professionals and IT staff when they were needed most.
We know now that COVID is likely to continue evolving, but despite this realisation there is an understanding that it is something that we must learn to live with. This new reality shouldn't compromise our goal of exceptional patient care. Nor should it consume all of our resources. Logistics and data should support and amplify wellness efforts, not hinder it. Ultimately, if healthcare leaders are open to creating new innovative systems that streamline intensive processes and alleviate pressure, we can benefit the health giver, the patient, and the institution, with greater impact and more effective results on our healthcare journey.
Byline by Harel Tayeb, CEO, Kryon