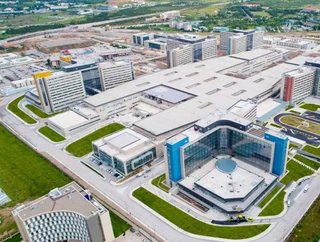 We round up the world's top 10 hospitals with the most advanced technologies that will enable them to meet the challenges of the future
The COVID-19 pandemic has dramatically transformed the way healthcare is delivered, and its impact on hospital design will be felt for many years to come. Here we round up 10 hospitals - some already built, some under construction - with advanced technologies and forward-thinking designs that will enable them to meet the healthcare challenges of the future. 
10. New Odense University Hospital, Odense
Denmark's hospitals are currently undergoing a programme of modernisation, which will see them become more specialised and have an increased focus on outpatient services. Another important part of this is making them more sustainable, by increasing digitalisation and deploying energy efficient medical equipment and lighting systems. The New Odense University Hospital is currently under construction, but once it opens in 2022 it will be a flagship for the country, with an efficient water management system and natural air ventilation. A large solar panel on the roof is already supplying one third of the energy needed to build the hospital, and it is estimated it will provide one fifth of the power for operations once the building is finished. 
9. Neuro Spinal Hospital and Radiosurgery Centre, Dubai
This new hospital in the Dubai Science Park has state-of-the-art technology for spinal, neurosurgical, neurological, orthopaedic, radiosurgery and cancer treatments. Its 114 patient beds include smart patient rooms, and this is also the first hospital in the UAE to deploy surgical robots and the CyberKnife System - a non-invasive alternative to surgery for inoperable or surgically complex tumours. 
8. University of Virginia University Hospital, Charlottesville
Since opening in 2020 this hospital has won several awards for its design and facilities. Its architecture places the emphasis on nature, and what sets it apart is its unique shape, which enables patient rooms to have views of the hospital's planted roofs, as well as scenic views across the nearby valley. Staff break rooms have similar views with the aim of promoting wellbeing among the workforce. 
Among its other accolades is featuring on Newsweek's Best Maternity Hospitals 2021 list. 
7. Carlisle Healthcare Hub, Carlisle
Construction recently began on the Carlisle Healthcare Hub, which has the goal of becoming the most sustainable healthcare centre in the UK once it's open. It is being designed to be carbon neutral and meet the BREEAM Outstanding criteria, a sustainability benchmark for buildings. All of the facilities' energy will be from renewable sources thanks to roof top solar panels and battery storage, plus there will be a heat recovery ventilation system in place of a traditional, energy-intensive heating system. 
6. Bayalpata Hospital, Nepal 
This hospital located in a remote part of Nepal where access to healthcare is extremely limited (it's a 10 hour drive away from the nearest airport) has been constructed using rammed earth, in other words natural raw materials including earth, chalk and gravel. This technique was chosen to ensure the hospital is sustainable and costs of  building were kept low. The natural materials have been used throughout the facility, giving it a non-clinical appearance, and care has been taken to ensure there's plenty of natural light. 
5. Midland Metropolitan University Hospital, Birmingham
This new hospital has been labelled a "digital super hospital", and once open in 2022 it is expected to be one of the most digitally advanced in the UK. As well as utilising MRI and ultrasound machines  by Siemens Healthineers,  the building will deploy Schneider Electric's EcoStruxure™ solutions for its power and control systems. This uses IoT technology to reduce energy consumption, connecting medical devices and providing advanced analytics. The hospital is also being designed to ensure it is dementia-friendly. 
4. Fu Jen Catholic University Hospital, New Taipei City
Architects Miniwiz and Fu Jen Catholic University Hospital have designed a modular ward that hospitals can deploy for COVID-19 cases. The ward uses recycled aluminium panels that can quickly be assembled within the hospital or to create a mobile ward in a nearby area. The panels have an anti-bacterial coating, and include an ultraviolet self-cleaning system that destroys bacteria and viruses. Once interlocked, they create a negative-pressure environment which enables ventilation. The materials are lightweight, enabling transportation over long distances. 
3. Ankara City Hospital, Ankara
Ankara City Hospital is one of the largest in the world, with around 4,000 beds and 130 operating rooms. A smart building management platform enables the control of the hospital's internal systems, which includes almost 800,000 data points for the building's infrastructure to run without problems. Automation technology from Siemens Healthineers is deployed in the hospital's labs, so that 140,000 tests can be carried out per day. 
2. Sidre Medicine and Research Center, Doha
This Qatari hospital is paperless and practically wireless, with its all-digital facilities deploying robotics, computer-aided surgery and digital imaging technology. Clinicians use mobile devices which enable them to monitor patients wherever they are, as well as scan bar codes on medication and photograph patient injuries. All this information is stored in a secure cloud server. 
As well as the focus on advanced technologies, attention has been paid to the natural environment, with the design maximising natural light, along with an indoor healing garden and water features. 
1. Chase Farm Hospital, London  
London's Chase Farm Hospital is one of the most digitally advanced hospitals in the world. In 2019 it achieved HIMSS Level 6, a rating that assesses the electronic medical record (EMR) systems in hospitals on a scale of 0 to 7. The EMR here captures test results, prescriptions and vital signs, and self-check in kiosks enable patients to check themselves in at reception. Mobile devices are in use by staff throughout the hospital to quickly capture and access information, and a mobile handset nurse call system lets patients call a nurse without disturbing other patients.