The World's 8 Most Architecturally Beautiful Hospitals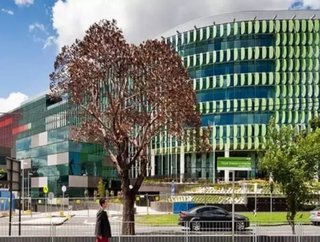 Hospitals are not always the cheeriest place. But a beautifully designed hospital can make even an extended stay feel more peaceful and comforting, lift...
Hospitals are not always the cheeriest place. But a beautifully designed hospital can make even an extended stay feel more peaceful and comforting, lifting spirits for patients and families as well as doctors and staff. These eight hospitals consider both the physical and emotional well-being of their patients. Diverse in style and structure, they are united in the care and forethought with which they were built. 
1. Royal Children's Hospital | Melbourne, Victoria, Australia
A stark hospital can be anxiety-inducing enough for any patient, let alone a scared and sick child. Dallas-based architecture firm HKS Inc.'s goal for the redesign of Melbourne's Royal Children's Hospital was to create an environment that was nurturing and therapeutic.
"By giving a child a chance to be a kid," the firm stated, "a hospital can alleviate any fear that a child has and help facilitate the healing process."
With playgrounds and a two-story aquarium, the hospital offers inviting safe spaces that meet the emotional needs of its patients. Meanwhile, its open spaces, mobile sculptures, and vibrant sun-shading petals impart an airy brightness—colorful in a way that's neither garish nor cartoonish, but instead warm and engaging. The hospital's five-star Green Star rating shows that the structure goes above and beyond to accommodate its surroundings as well as its patients.
2. Community Hospital of the Monterey Peninsula | Monterey, CA, USA
On the northern California coast, Monterey is a city that boasts no shortage of striking natural beauty. Built along Pebble Beach in the 1960s by modern architecture pioneer Edward Durrel Stone, Community Hospital of the Monterey Peninsula incorporates that beauty directly into its aesthetic through a masterful use of light, gardens, and other natural elements. Stone's midcentury aesthetic looks as fresh and modern today as it did 50 years ago, and the hospital continues to stay true to its look with each new addition from its Pavilions expansion to its Ryan Ranch outpatient campus.
3. Akershus University Hospital | Lørenskog, Norway
Designed by legendary award-winning Danish architectural firm C. F. Møller Architects, the Akershus University Hospital is considered the most modern hospital in all of Europe.
"The design of the complex reveals the influence of the high priority given to daylight for all workplaces, views of the surrounding landscape, and contact with the outside environment," states the firm in its project profile, noting its widespread use of glass and wood panels to create varied textures and friendly informal spaces.
Completed in 2008, the hospital won Best International Design at the prestigious Building Better Healthcare Awards in 2009.
4. Florida Hospital Waterman | Tavares, FL, USA
The stark institutional feel of a hospital can instantly make a patient feel ill at ease - with the construction of Florida Hospital Waterman, the goal was to diffuse that anxiety with a serene and inviting design.
"We wanted a facility that didn't have the traditional health care look, in order to make patients more comfortable," said Mike Hoffmeyer, a Dallas-based principal with architectural firm RTKL Associates who completed the project alongside Jonathan Bailey Associates in 2003.
The most striking aspect of the hospital is the 3-story atrium, which acts as the hospital's hub and main lobby. While the atrium's surrounding windows offer peaceful views of surrounding lakes and woods, its translucent fiberglass fabric roof is soft enough to let in light yet strong enough to protect patients and visitors inside.
5. Winnie Palmer Hospital for Women & Children | Orlando, FL, USA
With the stunning glass globe and cable-suspended canopy at its entrance, preceding 11-story columns of dark glass towering along the Orlando skyline, Winnie Palmer could easily be mistaken for a luxury resort hotel. But the $100 million structure is a hospital specializing in women's and children's care, conceptualized by global architectural firm Jonathan Bailey Associates UK LTD to feel more like a restful and rejuvenating hotel stay than a stressful hospital stay.
6. Harlem Hospital | Manhattan, New York, NY, USA
In 1936, the Works Progress Administration commissioned several murals to brighten Harlem Hospital Center as part of its Federal Art Project program. The problem with murals is that they may fade or decay with time. But as part of a $325 million modernization project in 2012, these murals have been digitally restored and preserved for future generations, printed on backlit glass to turn the hospital's new patient pavilion into a vibrant piece of historic art five stories high and the width of a New York City block.
"All the murals tell wonderful stories," Chuck Siconolfi, senior principal for health care at overseeing architectural firm HOK, told the New York Times at the pavilion's launch. "We said, 'Let's go beyond displaying these murals and make them emblematic of the whole community and its role in American life."
7. The London Clinic | London, England, UK
London's stylish upscale Marylebone district is home to several iconic sites, from Sherlock Holmes' own 221B Baker Street to The London Clinic at 20 Devonshire Place. Looking more like a boutique hotel than a hospital, The London Clinic has retained its historic style since its doors opened in 1932. In 2010, architectural firm Anshen + Allen succeeded in designing a brand new 8,000-square meter 8-story cancer center that is thoroughly modern while blending perfectly with the original site's aesthetic.
Earlier this year, Avanti Architects announced that it will be taking on renovations to the main hospital site, with updates including a new Harley Street entrance and an 8-story atrium.
8. Providence Holy Cross Medical Center | Mission Hills, CA, USA
In 2011, Providence Holy Cross Medical Center in Mission Hills, CA opened the doors to its South Tower Expansion. The $180 million project, entrusted to HMC Architects and Swinerton Builders, is 4 stories of crisp angular structure and cool mosaics of ocean-colored glass. Beyond its aesthetic beauty, the hospital is also beautiful move for the environment—HMC Architects notes that it's one of the first inpatient hospitals in the state of California to make a bid for LEED Silver certification.
Let's connect!