GE HealthCare Portrait Mobile's wireless monitoring solution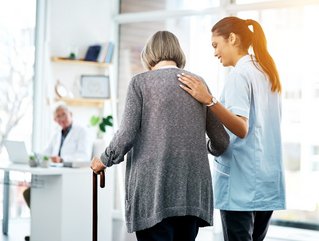 Wearable devices support patient freedom
A wireless wearable device from GE Healthcare, the Portrait Mobile, can grant patients mobility freedom, while still able to detect health deterioration
GE HealthCare's Portrait Mobile wireless and wearable monitoring solution has been given clearance from the United States Food and Drug Administration (FDA).
The device is designed to be used in a patient's recovery from intensive care and provides healthcare professionals with real-time continuous monitoring of the patient's vitals.
Wearable medical device data collection
For over 100 years, GE Healthcare has been supporting healthcare providers with new technologies. The GE Health Cloud offers a cloud-based platform for healthcare organisations to store, share and analyse clinical data, while GE's Mural Virtual Care Solution is a telehealth platform which provides virtual consultations and remote patient monitoring.
The wearable Portrait Mobile will assist healthcare professionals, as the device can recognise signs of patient deterioration earlier than a clinician would using spot check methods.
The data the device collects includes:
Respiration rate
Oxygen saturation
Pulse rate
Post-surgery patient deterioration is essential to identify, as this is the third leading cause of death worldwide, during the 30-day-period after surgery.
GE Healthcare's wearable medical device gives patients freedom
Dr. Daniel Sessler, Michael Cudahy Professor and Chair of Outcomes Research at Cleveland Clinic, knows that patients recovering from major surgery are fragile. He is the Principal Investigator for a trial evaluating the device.
"Most patients currently have vital signs monitored every 4-6 hours. We have shown that vital sign abnormalities are common – and sometimes profound and prolonged. Many potentially serious episodes of instability are missed with intermittent vital sign assessments. Continuous vital sign monitoring might help clinicians identify patients who are having difficulty so they can provide help quickly," he said.
For Neal Sandy, General Manager of monitoring solutions at GE HealthCare, it's important for a patient's recovery that they can move around freely while their vital signs are monitored.
"Until Portrait Mobile, patient monitoring required that patients be tethered to their beds, limiting mobility. GE HealthCare designed Portrait Mobile with this need in mind – the advent of a small wearable, wireless inpatient monitoring solution that provides reliable monitoring to the patient's care team, while allowing for more patient freedom and flexibility during recovery, is an important advancement in acute care."
The Portrait Mobile wireless and wearable monitoring solution is another milestone for GE Healthcare in its mission to support patients and healthcare professionals.
*********************************************
For more insights into Healthcare - check out the latest edition of Healthcare Digital and be sure to follow us on LinkedIn & Twitter.
Other magazines that may be of interest - Manufacturing Magazine.
*********************************************
BizClik is a global provider of B2B digital media platforms that cover 'Executive Communities' for CEO's, CFO's, CMO's, Sustainability Leaders, Procurement & Supply Chain Leaders, Technology & AI Leaders, Cyber Leaders, FinTech & InsurTech Leaders as well as covering industries such as Manufacturing, Mining, Energy, EV, Construction, Healthcare + Food & Drink.
BizClik, based in London, Dubai & New York offers services such as Content Creation, Advertising & Sponsorship Solutions, Webinars & Events.