GSK's commitment to Myelofibrosis & anaemia research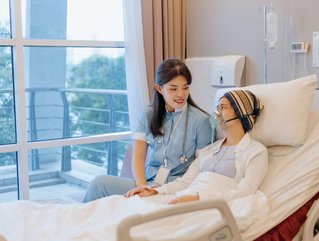 Myelofibrosis is a blood cancer
Japan's Ministry of Health reviews GSK's new drug Momelotinib for blood cancer Myelofibrosis treatment, which impacts 1 in 500,000 people worldwide
Pharmaceutical manufacturer GSK has announced that Japan's Ministry of Health, Labour and Welfare will review a new drug application for Momelotinib, a new medicine that may support myelofibrosis patients with anaemia.
Myelofibrosis is a blood cancer, with symptoms including fatigue, night sweats and bone pain and affects 1 in 500,000 people globally.
Research into the blood cancer myelofibrosis
GSK is a UK-based multinational pharmaceutical and biotechnology company focused on medicines and vaccinations. In particular, they develop cancer medicines with life-changing potential for patients. Their vaccines portfolio is one of the biggest in the pharmaceutical industry, as they have helped protect people from diseases like meningitis, shingles, flu, polio and measles. Currently, the company is focused on the next era of HIV innovation and myelofibrosis.
Myelofibrosis disturbs the body's production of blood cells. The illness can enlarge the spleen, advance anaemia (iron deficiency) and cause painful symptoms. In Japan, most people living with myelofibrosis have moderate to severe anaemia, which is something that Japan's Ministry of Health, Labour and Welfare is hoping to cure.

The pivotal clinical trial for myelofibrosis
There have been two clinical trials into Momelotinib and how it can treat Myelofibrosis.
SIMPLIFY-1
A multicentre randomised, double-blind, phase III study reviewed the safety and efficacy of momelotinib to ruxolitinib, in patients with myelofibrosis and it 'demonstrated non-inferiority of momelotinib to ruxolitinib in spleen volume response'.
MOMENTUM
A global, randomised, double-blind phase III clinical trial of momelotinib versus danazol for myelofibrosis patients who were anaemic, met all its primary and key secondary endpoints.
In 2011, an earthquake off the coast of Japan caused a tsunami which hit the Fukushima nuclear power plant. This accidentally released radioactive materials, raising global concerns about health and safety, including the possible heightened risk of anaemia.
The tsunami and Fukushima nuclear disaster have had huge mental and physical health implications for the Japanese population, but after more than a decade of research, there is thankfully no direct evidence to prove that it has increased anaemia in Japan. Still, the Japanese government is dedicated to fighting for a cure for myelofibrosis.
*************************************************
For more insights into Manufacturing - check out the latest edition of Manufacturing Magazine and be sure to follow us on LinkedIn & Twitter.
Other magazines that may be of interest - Healthcare Digital.
*********************************************
BizClik is a global provider of B2B digital media platforms that cover 'Executive Communities' for CEO's, CFO's, CMO's, Sustainability Leaders, Procurement & Supply Chain Leaders, Technology & AI Leaders, Cyber Leaders, FinTech & InsurTech Leaders as well as covering industries such as Manufacturing, Mining, Energy, EV, Construction, Healthcare + Food & Drink.
BizClik, based in London, Dubai & New York offers services such as Content Creation, Advertising & Sponsorship Solutions, Webinars & Events.