Paralympian to compete in Tokyo thanks to "cooling" device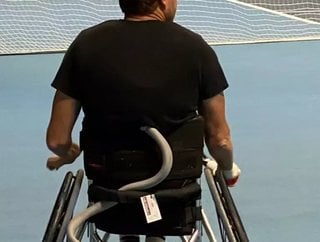 Innovative cooling technology by Paxman is enabling a British athlete to safely compete in the Paralympics 
A ground-breaking medical cooling device  has been designed to prevent a Paralympic athlete's body from reaching dangerously high temperatures while he's competing. 
Paralympian Antony Cotterill is representing the UK wheelchair tennis team at the upcoming Tokyo Paralympics. He will be using a pioneering medical cooling device produced by family-run company Paxman while he's playing, that incorporates a bespoke cooling vest to stop his body reaching very high temperatures. 
Cotterill broke his neck in 2003 after  falling into a shallow swimming pool; the accident left him unable to sweat, and therefore unable to regulate his own body temperature. 
While he was in rehabilitation he discovered his skill for wheelchair tennis, and he has since embarked on a successful career - playing in the National Championships,  winning more than 40 singles and doubles titles, and reaching a world ranking of No. 5. He made his Paralympic debut at the Rio games in 2016. 
The temperature in Japan averages around 31°C in August, and so two years ago the manager of Cotterill's tennis club approached Glenn Paxman, the founder and Chairman  of scalp cooling experts Paxman, to see if he could help come up with a cooling solution. 
The British family-run business was founded to provide cooling technology to help cancer patients keep their hair during chemotherapy. Glenn's brother Neil Paxman developed the lightweight miniature cooling device for Cotterill, which attaches to his wheelchair. 
Glenn Paxman said: "Cooling innovation is firmly embedded in the Paxman family, so Neil took these years of experience and research to make something bespoke that would help Antony compete safely in the Tokyo heat.  Jonathan Binder of our Design & Development team contributed to the project with the development of the vest, which Antony can wear comfortably during his matches."
The device was tested extensively, including successful heat chamber testing where a telemetry pill recorded that Cotterill's core temperature lowered while the device was in use. 
During the first day of testing Cotterill didn't use any cooling assistance; on the second day, he used ice drinks and cool towels; and during the third day, he wore the Paxman cooling device, with the heat chamber test showing a reduction of 1° in his core temperature. 
"The technology is incredible, and I cannot believe it has been designed especially to help keep me cool while I play" he said. "Without it my core body temperature would reach dangerously high levels during a match, which sadly could stop me from competing. I am now looking forward to representing Team GB this summer and cannot wait to get on the court."
Throughout the development of Paxman's device the project has been supported by The Lawn Tennis Association and the British Olympic committee. The Paralympics take place from Tuesday 24th August to Sunday 5th September.