Procurement & Supply Chain
The Abbott stent that saves lives and inspired a new app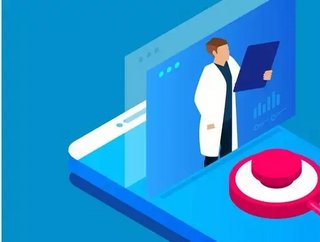 After being fitted with a life-saving Abbott stent, Matthew Shields decided to help others by creating a tracking app for these devices...
In 2016, athletic 40-year-old Matthew Shields suffered an unexpected widowmaker heart attack while running before work. Victims of widowmaker heart attacks, also known as a STEMI (ST-segment elevation myocardial infarction), have very low survival rates - people who have cardiac arrests outside of hospitals have just a 6 per cent chance of survival, and in the case of widowmaker attacks it's even lower. 
However Matthew survived, after undergoing a two-hour operation to be fitted with a stent. This profound experience inspired him to make it his mission to help improve the quality of care for people with cardiovascular disease, and as a result he's developed a cloud-based app that can track stents. 
"I was incredibly lucky to survive the ambulance ride to emergency surgery, and I remained fully conscious seeing my dying heart on the screen in the emergency room" Matthew says. "All to watch a medical implant be inserted through my arm into my heart to save my life."
"Waking up the following morning in the ICU, I made a conscious decision that if I was able to get out of hospital and not die, if I would do one thing with the rest of my life, I would dedicate it to healthcare and making sure people do not go through what just happened to me." 
Doctors told him that as his heart had gone without oxygen for a long time, he would need either a pacemaker or a heart transplant. He was fitted with a XIENCE stent, manufactured by American multinational Abbott, a pioneer in medical devices since 1888. 
"The implant stays inside your body forever, and you need medication for the rest of your life. You're not able to do things you previously took for granted and your life is very different. Fortunately, I later found out, I could push my body to return to the normal outdoor activities I loved."
The months that followed were very slow paced; just walking to the letterbox was a challenge. "People often don't know that once heart muscle is damaged from a lack of oxygen it can't be repaired. This is why time is everything when people suffer a heart attack and every second counts."
"For me, learning I had a medical implant inside my body was an artifact of surviving a widowmaker heart attack. This precious medical device would be there to help me stay alive forever."
Matthew, who works for the Australian Commonwealth Scientific and Industrial Research Organisation (CSIRO), decided to visit the Abbott production facility in Temecula, California, to find out more about how the device works. 
"The level of quality and care that was engineered into these medical devices was beyond my expectations. When I returned to wilderness trekking in the remote mountains of New Zealand, I felt confident the product was not going to fail." 
Matthew then set about creating a tracking app for stents like his. Working for the CSIRO, he had experience of creating monitoring apps, and applied the same methodology to this project. "However, we needed a platform" he explains. "After visiting the development team at Salesforce in San Francisco I was confident that my vision could be realised. Later on in the development cycle I attended the Dreamforce event, meeting other app developers and company founders. Then I knew that what I'd created solved a hole in the market."
The MyLM app connects hospitals with manufacturers to keep track of their inventory. "Managing hospital supplies is a balancing act" Matthew says. "Some medical devices have expiration dates, but always need to be on hand for emergencies. Specialist items like medical implants need to be ordered in advance, and parts like stents are kept on hand. Others arrive just in time for an emergency when they're needed in an urgent operation."
"Hospitals are constantly juggling their supply levels and arrival dates, and it's so easy for something to slip and throw everything out possibly affecting costs or often patient outcomes. A mismanaged hospital supply chain also affects manufacturers, as they're the organizations fulfilling orders for hospitals. Manufacturers need to be kept in the loop as well to deliver urgent and temperamental goods on time."
MyLM is hosted on the Salesforce app exchange, which Matthew says allows for a faster rollout and greater accessibility on more devices. Logging products in the app is completely contactless, using scanners to log the movement of medical supplies. 
This aspect is particularly important with Covid-19 causing disruptions to supply chains. "Secure contactless tracking removes the need to quarantine goods and reduces the possibility of outbreaks in high risk areas such as hospitals" Matthew says. 
"Improving medical supply chains is also a boost to manufacturers. Hospitals can establish an ongoing relationship with manufacturers of medical supplies, better monitoring their stock levels and ordering more as soon as supply drops."
Matthew says the current focus is on the Australian market, but there are plans to expand globally in 2022. 
His ultimate goal is to have a worldwide impact on the outcomes of patients with coronary artery disease. "There were nearly 18 million people globally who died because of this last year" he says. "For MyLM to be adopted on this scale we challenge hospitals to adopt our technology and see the benefits. Global medical device manufacturers are looking for real time information on the status of their medical devices. This is now a reality with MyLM."
It's an ambition that is driving him personally too. "The events that unfolded after my heart attack shattered my life to pieces. Amazingly since pieces were put back together, I have now created a life which is greater than the sum of these broken parts."