AI-powered blood analysis to "improve outcome of diagnosis"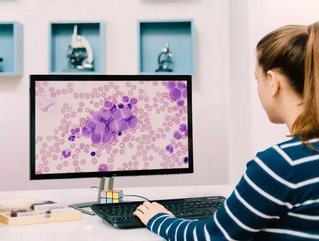 Using artificial intelligence to assess blood samples could improve care outcomes and reduce time...
A new microscope that uses artificial intelligence to analyse blood samples is set to be commercially available in early 2021. 
Israeli startup Scopio Labs have announced that the AI-powered X100 microscope has been approved by the US Food and Drug Administration (FDA). 
Scopio's microscope aims to reduce human error, as most pathologists use manual tools to make in-depth diagnosis when analysing blood samples. 
The X100 uses innovative computer vision tools to capture digital scans, along with advanced imaging techniques. The microscope's Full Field Peripheral Blood Smear (Full Field PBS) application includes a tailored decision support system to pre-classificy white blood cells into 16 classes, red blood cell morphology evaluations, platelet location and count. 
It also enables the pathologist to zoom in and out to view thousands of cells on a digital slide, at a resolution level of 100X. Scopio say such a high resolution has not been possible in a far so far. 
"Understanding the challenges lab technicians, hematologists and hematopathologists face when evaluating blood samples containing large numbers of morphologically-unique cells in a timely fashion, we designed our solution specifically for hematology labs where we can improve quality of care, consistency of results and reduce review time" said Scopio Labs' CEO and Co-Founder, Itai Hayut. 
"We are thrilled to receive FDA clearance following the successful completion of a multi-center study, as we bring our innovative solution to laboratories around the US to help improve the outcome of diagnosis and care."  
Scopio Labs was founded in 2015 with the purpose of using advanced imaging and AI to find novel solutions to hematology diagnostics, by discovering actionable insights from vast amounts of data in the average blood sample and bone marrow aspirate. 
"The field of microscopy is poised for transformation, and I am enthusiastic about the prospects of Scopio Labs' innovative application" said Michael D. Feldman, MD, PhD, Vice Chairman Clinical Services, Pathology and Laboratory Medicine at University of Pennsylvania School of Medicine. "With new digital technologies combining imaging and artificial intelligence being introduced into the laboratory, we can provide clinicians with tools that strengthen their capabilities." 
The company has also created an AI-based decision support system for the veterinary sector which is currently used in veterinary clinics throughout the United States, United Kingdom and Ireland. 
The X100 microscope and Full Field PBS is available in Europe with CE mark certification granted earlier this year. Full commercial availability expected early in 2021.