AI-powered wearable sleep test launches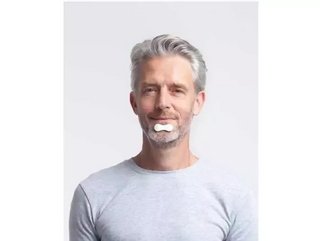 Sunrise sits on the wearer's chin and captures movement...
A test that sits on the wearer's chin and uses sensors and AI to detect sleep disorders launches today in the UK. 
Called Sunrise, its creators say it is the world's first home-based sleep test to provide results equivalent to the polysomnography used in sleep laboratories.  
To use it the wearer places the sensor on the chin before going to sleep. Powered by AI, this records data by measuring the person's chin movements while they're sleeping, based on the premise that jaw movements can indicate sleep apnoea and other disorders. 
The user is then offered the choice to connect with a sleep physician and receive treatment when needed.
The test is the result of a collaboration between the UK's National Heart and Lung Institute and Imperial College London, but is the brainchild of sleep specialist Dr. Jean-Benoit Martinot and over a decade's worth of research. 
A clinical study published in the Journal of the American Medical Association found that Sunrise could be a convenient home-based alternative for sleep studies, to avoid the need to sleep in a hospital bed and be connected to multiple wires.
The test previously launched in France and Belgium, and is now available to buy in the UK where sleep apnoea is estimated to affect 1.5 million adults, although 85 per cent are undiagnosed and therefore untreated.
Martinot, CEO and Co-founder of Sunrise, said: "We are excited to launch into the UK, which is known for its early adoption of innovative and industry leading medtech solutions. Sleep apnoea is a major health issue today with studies having concluded sleep disordered breathing concerns affect 49 per cent of men and 23 per cent of women aged 40 and above². 
"The problem is that the condition remains 80 per cent undiagnosed, and untreated sleep apnoea is linked with serious health problems such as hypertension, heart failure, stroke or diabetes" he added. 
"Additionally, patients suffering from sleep apnoea also appear to be more at risk if they contract COVID-19. As a result of the pandemic, many sleep labs have largely slowed down and we are working with sleep physicians in order to make the steps to getting treatment quick, easy and affordable without compromising the quality of the results.
"Our overarching mission is to help everyone understand that breathing is at the heart of good night's sleep. We believe sleep should not be a source of anxiety and getting a simple test can bring about more understanding of the quality of sleep."