Assistive tech helps prevent children becoming isolated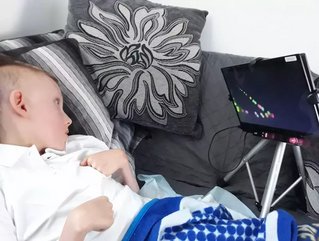 Lifelites' innovative technology helps children with disabilities and complex illnesses play and communicate...
 A UK charity has been delivering assistive technology to children with disabilities and complex conditions to prevent isolation during the COVID-19 pandemic. 
Lifelites has donated iPads and a 'Tech Trunk' equipped with sensory technologies to children's hospices up and down the UK, to make sure children stay connected to carers and family, and remain active during the pandemic. 
The Tech Trunk is a portable case packed full of assistive technology for children who receive hospice care at home. They also contain iPads with special apps and drop-proof cases. The adaptive iPads have proven to be crucial for children to stay in touch with others during the lockdown. 
The Children's Hospice Association Scotland, (CHAS), said the iPads allowed them to "offer virtual hospice services such as clown doctors and music sessions via Zoom, as well as support groups and services to families. The iPads have been invaluable to children in isolation." 
The iPads have made it possible to hold online music therapy sessions and virtual birthday parties for children who have been shielding at home during the pandemic. 
St Oswald's hospice in the northern city of Newcastle has organized and celebrated virtual parties thanks to the equipment. One carer at the hospice said, "the Lifelites equipment has been so important for us in the past months. I have used iPads to make birthday videos for the children shielding at home and some individual videos for our children and young adults to cheer them up. 
"We have also been using the iPads to coordinate Zoom sessions with children and families who have been very bored and lonely while shielding at home. The iPads are used every single day. It is Lifelites technology which has brought us together. We are all hugely grateful."
After Lifelites delivered iPads to ellenor hospice in Kent, JJ was able to play with his brother. JJ is non-verbal and has difficulties moving most of his body. His mother explains: "With the iPads we are able to put on videos for him to enjoy. He is able to interact more because the screen can be closer to him. This also allows his younger brother to play games with him. It is great that the brothers can play games on the iPad together, or even create music, and laugh. We have lots of fun using the apps where we can take pictures of each other with silly filters on." 
Another important piece of equipment is Eyegaze, a peripheral eye tracker that replaces the standard computer mouse, allowing the user to navigate and control a desktop or laptop computer using only their eyes.
JJ uses Eyegaze to paint pictures, make music, play games and write. His mum says "It is a great way to socially interact with him. JJ seems to really enjoy the drumbeats on Eyegaze."
Also part of the Tech Trunk is the Mobile Magic Carpet, which allows children in wheelchairs to have experiences like kick around leaves or splash around at a pond with fish swimming in it. It has a selection of games including football, educational activities, and cause and effect games. 
Lifelites selects technologies after consulting with children's hospice staff, and makes sure every piece of technology they donate is easily portable in order to reach children on their terms.
The charity has been donating the groundbreaking packages of technology for 20 years, and currently supports every children's hospice service across the UK. With the arrival of COVID-19, the charity's aim is to "provide new technology and further develop ongoing support to ensure that disabled and life-limited children have a chance to escape the confines of their conditions, despite the pandemic putting additional constraints on them."