Burnout is risking patient safety, new research finds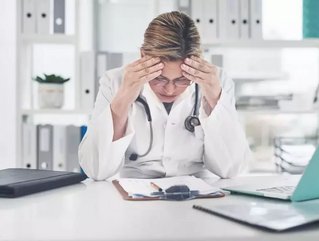 MedAware's research highlights the need for personalised decision-making systems...
MedAware, a health tech company that helps clinicians make decisions using AI, has released new research showing that sleep-deprived, overworked junior clinicians are at increased risk of making mistakes when prescribing medication, jeopardizing patient safety. 
The Israeli startup says the results highlight the need for AI-driven, personalised decision support. 
Research published in the Lancet in 2019 called physician burnout a 'global crisis'. This has been exacerbated by the Covid-19 pandemic, which is resulting in exhausted healthcare staff, impacting on the quality of care patients receive. 
MedAware's study analysed data from a medical center between 2014 and 2017, examining over one thousand physicians who each prescribed at least 100 prescriptions. Medication errors were flagged by MedAware's decision support system, which uses machine learning algorithms and big data analytics to detect potential medication-related risks. 
The research found the following: 
During the period of the study, 1.6 million orders were prescribed by the physicians with over 3,700 prescriptions flagged as erroneous by the system
Clinicians with high workloads were x8 more likely to make mistakes when prescribing, compared to clinicians with normal workloads
Continuous back-to-back shifts were associated with twice the risk of error compared to single shift results
Prescribing errors were measured based on the physician's number of continuous shifts, overall workload and level of experience. 
"As expected, this study shows that long shifts with heavy workloads lead to increased physician prescribing errors" said Dr. Gidi Stein, Co-founder and CEO of MedAware and co-author of the study. 
"Even in high-stress situations, our system is shown to ensure patient safety and prevent significant harm by accurately detecting and mitigating these risks. With the COVID-19 pandemic straining healthcare systems worldwide and pushing prescribers and clinical care teams to their limits, the need for advanced decision support systems is critical."
MedAware's machine-learning algorithms extract and analyse data gathered from millions of electronic health records (EHRs) to detect prescribing behaviour and evolving situations that would otherwise be missed. Acting as a safety layer within the EHR, MedAware's platform boasts an 85 per cent accuracy rate, and ensures that errors are caught at the earliest possible stage. 
The findings show that less experience, longer hours and greater workloads increase the risk of medication-related errors. Moreover, nearly half of the errors were lab result-dependent irregularities, which most current clinical decision support systems do not address, highlighting a significant gap in care. Observations from the study stress the importance of incorporating personalised decision support tools in reducing risks related to medication and improving patient safety.