ESWT treatments are shocking patients back to health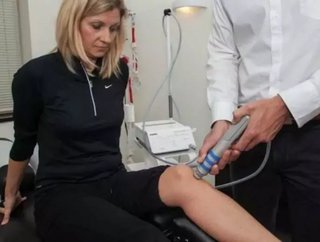 Chronic tendinitis, soft tissue injuries and orthopaedic conditions such as tennis elbow and Achilles heel bring pain and misery to thousands of patien...
Chronic tendinitis, soft tissue injuries and orthopaedic conditions such as tennis elbow and Achilles' heel bring pain and misery to thousands of patients every year. For those patients who do not benefit from a course of physiotherapy and for those who are deemed 'unsuitable' to undergo invasive surgery to cure the problem, the outlook is bleak as they are sentenced to a life of discomfort. 
However, thanks to advances in technology over the years, patients across Europe, and more recently in the UK, are benefitting from Extracorporeal Shockwave Therapy (ESWT). After recognising surgeons in the UK had an unmet need when it came to the treatment of patients with complaints of chronic pain, Spectrum Technology was set up in 2007, specifically to import the Swiss DolorClast device into the region's healthcare sector. 
Manufactured by Swiss company EMS (Electro Medical Systems), the Swiss DolorClast is an FDA approved ESWT machine that was derived from the practice of lithotripsy. The device transmits low-energy shockwaves through the patient's skin to their injured body part. This causes an inflammation-like response in the injured tissues, which then encourages the body to increase blood circulation, blood vessels and metabolism. These actions boost the body's natural healing process by increasing cell production and dissolving calcium deposits, one of the common causes of tendinitis.
"The feedback on the whole has been very positive," says Jim Westwood, a Managing Partner at Spectrum Technology. "It benefits all parties; the surgeon, the patient, the insurers and the NHS. Rather than surgeons having to say, 'Sorry, there's not a lot I can do for you,' they can offer this non-invasive procedure. It works in eight out of 10 cases and the surgeons don't feel that they are letting the patient down by not being able to do something for them."
In the UK so far, over 100 clinics are using Swiss DolorClast technology to treat patients. Although the majority of these are private clinics, there are 15 NHS centres that have introduced the device too. "There are also a number of Premier League football clubs that are using it," Westwood adds. EMS has also supplied the Swiss DolorClast device to the last four Olympic Games and while appearing on BBC Radio Four in February, David Silver, a UK-based Musculoskeletal Radiologist who is offering ESWT treatments, said four devices would be used in the Polyclinic at this year's Games.
Swiss DolorClast devices range in price and start from £10,000. Not only does Spectrum Technology sell the devices to hospitals and clinics, it also rents them out and offers them on a pay-as-you-go scheme.
In regards to the future use of Swiss DolorClast and ESWT treatments, Westwood says making them more available in the NHS is one of Spectrum's priorities. The company is also looking at diversifying its uses. "There are new indications coming forward for what the device can be used for and one of them is for repairing non-healing diabetic foot ulcers.
"We are confident it will become a widely accepted technology," he finishes.
The Healthcare Global magazine is now available on the iPad. Click here to download it.