iPhone diabetes device helps sufferers manage condition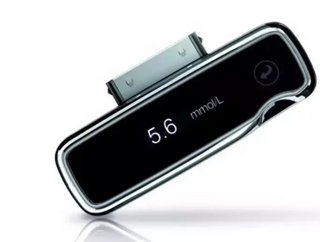 Diabetes sufferers in the UK will be able to manage their condition using their Apple iPhone or iPod Touch thanks to the launch of a new smartphone dev...
Diabetes sufferers in the UK will be able to manage their condition using their Apple iPhone or iPod Touch thanks to the launch of a new smartphone device.
The iBGStar glucose monitor comes with a free Diabetes Manager app and attaches to the bottom of an iPhone or iPod.
It allows patients to check their blood sugar levels at any time and uploads the information to the app, which then analyses the results.
iBGStar has gone on sale today at a cost of £48 and will be available through the chain of high-street chemists Boots.
To read the latest edition of Healthcare Global, click here
The design of the device is based on commonly-used BGMs (blood glucose monitors) which prick the finger to take a tiny spot of blood.
However, iBGStar is smaller than traditional BGMs, at just one inch long.
The software that the Diabetes Manager app operates on is able to track and analyse the patient's glucose levels and displays the information to them on their Apple device.
It also shows users trends and variations in their blood sugar levels, along with information such as their intake of carbohydrates, the amount of exercise they've done and the frequency of their  insulin injections.
It is hoped such data will make diabetes sufferers aware of the factors that affect their glucose levels and help them to maintain them at a healthy level.
Keeping a close eye on blood sugar levels is vitally important for those living with diabetes, especially people who are suffering from type-1 diabetes.  
If a patient's blood sugar levels increase too much, they could be at risk of health complications involving their heart, kidneys, eyes and nerves.
iBGStar has been produced by pharmaceutical giant Sanofi and the company's Managing Director for Diabetes, Dr Andrew Hockey, said it was a "huge step forward" for the management of the condition.
He added: "It harnesses the power of the latest technology to empower people with diabetes to manage their condition on a day-to-day basis."
Meanwhile, a spokesperson for the type-1 diabetes charity JDRF, Sarah Johnson, commented:  "Good blood glucose control is vital to reducing the long-term effects of diabetes, but it can be difficult and demanding to achieve.
"As such, we welcome all developments in technology that can help people with type-1 and type-2 diabetes take control of their condition."
The device is being promoted by UK television presenter Dominic Littlewood, who was diagnosed with type-1 diabetes as a teenager.
"I lead a hectic lifestyle and so keeping an eye on my blood glucose levels is challenging," he said.
"iBGStar gives me the reassurance of knowing that I can get accurate blood glucose results using my iPhone, which I carry around anyway."
In the UK, an estimated 2.9 million people suffer from diabetes.
Prior to its UK release, iBGStar has been launched in countries across Europe, including France, Germany, Spain, Italy, The Netherlands and Switzerland.
The UK launch of iBGStar:
The Healthcare Global magazine is now available on the iPad. Click here to download it.