Jvion launches AI-powered map to tackle mental health crisis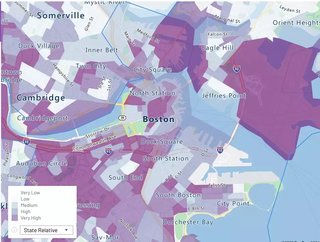 Jvion's new interactive map uses AI to predict areas most vulnerable to poor mental health
Clinical AI company Jvion has launched an interactive map  of the US that highlights areas that are most vulnerable to poor mental health. 
The Behavioral Health Vulnerability Map uses Jvion's AI CORE™ software to analyse public data on social determinants of health (SDOH)  and determine the vulnerability of every US Census block group. 
Vulnerability refers to the likelihood that residents will experience issues like self-harm, suicide attempts or overdoses. The map also identifies the most influential social determinants in each region, to show the social and environmental conditions that contribute to mental illness. 
As an example, the map shows that Harrison County in Mississippi has a 50% higher suicide rate than the rest of the state. It also shows a high percentage of individuals in the armed forces at a time when active duty suicides are at a six-year high, along with a high prevalence of coronary artery disease, arthritis, and COPD, all chronic illnesses that are linked to a higher suicide risk.  
The map also shows Harrison County has a high percentage of Vietnamese Americans, who studies suggest have high rates of depression and may be less likely to seek help from mental health professionals. 
The map was built using the same data and analytics that Jvion used to create the COVID Community Vulnerability Map, which was launched towards the start of the pandemic. 
With this new map, Jvion is aiming to tackle the growing mental health crisis in the US. "At a time when so many Americans are struggling with their mental health, we're proud to offer a tool that can help direct treatment resources to the communities that need it most," said Dr John Showalter, MD, Jvion's chief product officer, who led the development of the map. 
"For too long, the healthcare industry has struggled to address social determinants of health, particularly in the context of behavioural health. Our hope is that by surfacing the social and environmental vulnerabilities of America's communities, we can better coordinate our response to the underlying conditions that impact the health and wellbeing of people everywhere."