Kaiser's Teledermatology Program Proves A Doctor and Patient Favorite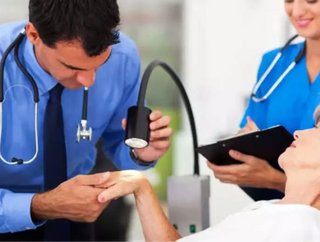 Written by AlyssaClark Kaiser Permanente proudly presents the implementation of their new "teledermatology" program: a program that will dr...
Written by Alyssa Clark
Kaiser Permanente proudly presents the implementation of their new "teledermatology" program: a program that will drastically reduce the number of unnecessary doctor office visits/appointment scheduling and paying ridiculous amounts of high co-pays. Utilizing Kaiser's well-established EMR system (electronic medical record), Kaiser can reduce things like patient wait time, number of office visits, expensive co-pays while increasing patient satisfaction and improve overall patient well-being.
In a quarter of the time of a standard dermatologist office visit, a photo can be taken of a patient's serious facial lesion or rash and uploaded to Kaiser's EMR system. The photo can then be analyzed by the respective physician, and a diagnosis can be administered to the patient as quickly as 15-30 minutes after the photo has been taken. The patient also has the option to wait for the diagnosis in the office, or receive a phone call or email when the information becomes available, thus reducing in office time even further.
Not only can dermatology office visit appointments be lengthy and sometimes unnecessary, but they are extremely hard to come by. The waiting list to get an appointment at some clinics can stretch back as far as 5 months, but with the implementation of teledermatology, it is expected that this number will continue to drop.
According to Kaiser's research, there is an apparent shortage of dermatologists nationwide. Since the pilot of this program launched in 2007 in Fairfield, Kaiser has seen this program help millions of patients across California; most recently branching into areas of Fresno, Santa Rosa and other Kaiser facilities across California.
By using this innovative and efficient electronic system, patients can be reassured that benign lesions and rashes are diagnosed more quickly; this alleviates any additional stress to the patient, and decreases the number of unnecessary appointments from now being able to diagnose and treat faster and more easily. With specialists being in high demand, patients can now rest assured that they won't be neglected due to high appointment wait times, or extraordinarily long waiting lists.
The camera that will be used to take the photos used by specialists to diagnose their patients contains a specialized lens (known as a dermascope), and it can take pictures and analyze skin at a microscopic level. From a picture from a dermascope, a specialist is able to ascertain whether a lesion is benign or malignant.
A Kaiser doctor works a different day of the week, doing nothing but analyzing and diagnosing these patient high-resolution images. On average 60-80 cases are reviewed and diagnosed daily, breaking the traditional numbers of patients coming for in-person visits. If a growth is determined to be malignant, the primary care doctor is notified and an appointment is automatically made with the specialist.
The entire program is 100 percent voluntary— only taking pictures of patients who wish to use the expedited teledermatology program, but the choice is entirely up to them. Doctors have come out in full support of the EMR revolution, saying that it not only makes their job more efficient, but they feel as if they are having a greater impact on their patients, which is every doctor's greatest hope. 
About the Author
Alyssa Clark is the Editor of Healthcare Global