London hospital uses new AI tool for cancer detection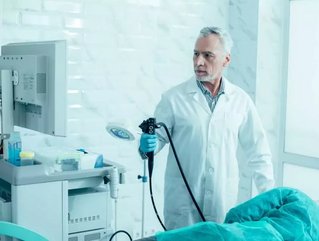 The hospital is using AI to analyse video from colonoscopies in real time...
Artificial intelligence is helping clinicians enhance the quality of colonoscopies at a London hospital. 
The London Clinic has become the UK's first hospital to use GI Genius™, a system that uses AI to detect colorectal polyps. The device acts as a second observer during colonoscopies, helping to assist doctors by identifying lesions and small abnormalities that could be a sign of cancer.
It works by analysing the video stream during the colonoscopy, using advanced AI to highlight the presence of pre-cancerous lesions with a visual marker in real-time. Its creators, medical device company Medtronic, hope it will improve diagnosis and therefore outcomes for patients with colorectal cancer.
Dr Rehan Haidry, Consultant Gastroenterologist at The London Clinic, said: "We are thrilled to introduce the GI Genius™ system at The London Clinic. The system represents an important advancement in technology and is a crucial step in the fight against colorectal cancer, supporting both patients and doctors.
"The technology is incredibly powerful and is proven to be extremely precise in identifying lesions in the colonic mucosa that can be difficult to detect. Some polyps can be very small, and during colonoscopy procedures you are examining the colon, which is five feet long, so it's vital to be as thorough and diligent as possible.
"Having a second set of eyes that can pick up the smallest change in real-time means we can focus our attention on the right places, which can be life-saving for patients."  
According to the WHO, colorectal cancer is the third most common type worldwide and the second cause of cancer deaths with 862,000 each year. However if detected and treated early it has a high cure rate. 
GI Genius™ has been approved for sale in Europe and has started clinical trials for US registration.