New virtual classroom lets surgeons learn together remotely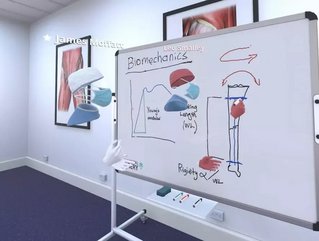 The immersive environment intends to let surgeons collaborate as if they were in the same room...
A virtual classroom has launched to enable surgeons to come together and take part in interactive teaching sessions and lectures remotely, from anywhere in the world. 
'Teaching Space' has been created by FundamentalVR to improve the way surgeons are trained. It follows on from their virtual platform Fundamental Surgery, which lets an unlimited number of users practice, learn, and teach together inside an operating room. 
The addition of Teaching Space means multiple people can meet in a virtual classroom setting complete with an interactive whiteboard, where they can conduct lessons, discuss a procedure before attempting it in the virtual operating room, or debrief after practicing a procedure. 
Instructors and their trainees can interact, write notes on the whiteboard and share ideas, regardless of where they're located. They can also easily transition between Fundamental Surgery's virtual operating room and Teaching Space. 
FundamentalVR say that it can also benefit medical device and pharmaceutical companies, by saving time and money on bringing surgeons and key opinion leaders into the virtual room for briefings, Q&A sessions and one-on-one training without the need to travel. 
Peter Rainger, Chief Learning Officer at FundamentalVR, explained that the virtual classrooms are a solution to the disruption caused by the pandemic. "COVID-19 has presented significant challenges to surgical training and in many cases completely disrupted traditional training programs, which have relied upon face-to-face events" he said. 
"Video conferencing facilities have come to meet the immediate communication needs of many. However, these 2D platforms do not fully replace the teaching and learning opportunities of being together in the same room talking about a patient case pre-operatively or live in an operating room looking at the patient anatomy and handling surgical tools. 
"Our new Teaching Space, which provides a collaborative environment for surgical education in VR, allows residents and KOLs from across the globe to come together for teaching sessions, to review cases and share their knowledge and skills. In our new Teaching Space, I can simply pick up a pen and draw out concepts on a whiteboard and allow trainees to annotate and write comments, all in real-time, whilst talking as if we were in the same room.The possibilities for this new flexible teaching space in the future are endless."