Nextiles: the future of wearable technology?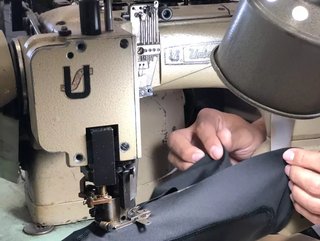 We speak to Nextiles founder George Sun about how his company is improving  wearable tech
New York startup Nextiles has developed a form of wearable technology that's embedded into clothing and captures data using Bluetooth. We speak to founder George Sun about how it works and how this improves on existing wearable tech. 
Who is Nextiles?
Nextiles is a Brooklyn-based textiles manufacturing startup that incorporates fabric and basic sewing techniques with advanced sensor technology to create smart fabric using patented technology. The team is consistently working towards reinventing the sensor and wearables world by capturing important, advanced data sets that may be missed by traditional wearables.

What is a "smart fabric"? 
Smart fabric is created by sewing thread-based sensors directly into fabrics, and those sensors being able to immediately capture all biometric and biomechanical movement of the person wearing the fabric – everything related to movement and physiological measurements. 
Using traditional sewing techniques, Nextiles incorporates sensors into basic threads seen in everyday fabrics such as cotton, polyester, spandex and nylon. Smart fabric can range from the shirt on your back to a tailored arm sleeve. 
The concept emerged after studying different semiconductor material properties and embedding these properties into fabric material. The impetus was to derive a bottom-up approach to create sensors – to build from the ground up thread-by-thread, rather than what is conventionally done in the market which is top-down by miniaturising already made electronic devices into wearable straps.  
How does the fabric collect data? 
Data is collected via a Bluetooth device integrated within the fabric. The data is then streamed in real-time and can immediately be tracked and analysed locally or within the cloud. 
The user can also see this data in an app that supports Nextiles' Software Development Kit (SDK). A recent example of this is Nextiles' partnership with Lilu, an innovative women's apparel brand targeted to breastfeeding mothers. Nextiles and Lilu have partnered together on an advanced breast-pumping massage bra that's incorporated with Nextiles' smart fabric to give new mothers and the broader healthcare industry important data sets on lactation. 
This will also enable Lilu to create custom algorithms around lactation efficiency for their end users and for the industry as a whole. Once worn, the bra will collect this data and display it on the Lilu app which implements Nextiles' SDK. 
Does the fabric feel different to the wearer in any way? 
Since Nextiles uses everyday fabrics that make up the clothes we wear daily, wearers should expect the smart fabric to feel identical to the fabric we are familiar with – the smart fabric is even machine-washable. 
What are the benefits of Nextiles compared to traditional wearables? 
Nextiles can supply healthcare providers and patients with real-time advanced data metrics by using a single article of smart fabric compared to wearing multiple clunky wearables. This provides convenience and ease for both the provider and patient. 
Nextiles' technology detects advanced end-to-end data, so more information can be detected by the smart fabric than the smart watches and rings we see on the market today. This advanced data will ultimately paint a bigger picture for healthcare providers when diagnosing and providing care to their patients.
What are Nextiles' goals for the next 3-5 years? 
In the coming years, Nextiles aspires to integrate its technology into a variety of industries – ranging from healthcare to the automotive industry. 
By leveraging two pieces of its core technology, the materials and the SDK/APIs that communicate with the sensors, Nextiles envisions being the backbone data infrastructure of a variety of industries, providing data insights into human engagement that has not, or could not, be unlocked given today's technology which has been based on rigid silicon chips. Ultimately, Nextiles hopes to bring a new wave of innovation into the smart goods market, and sees many industries as potential company partners.