NHS Direct is the foundation of digital remote care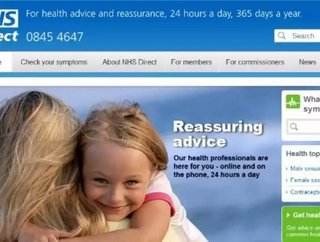 Written by Mark Snell Since 1997, NHS Direct has provided people in England with expert health advice, information and reassurance to help them care fo...
Written by Mark Snell
Since 1997, NHS Direct has provided people in England with expert health advice, information and reassurance to help them care for themselves at home, or to access appropriate healthcare using world-class telephone and web services. Each year around five million calls are made to its health information and advice line and the NHS Direct website receives over 18 million visits.
With an ever increasing demand from patients and the public to access services and information over the internet and other mobile channels, NHS Direct realised in 2009 there was a need for a significantly enhanced, personalised and cost-effective web offering. For this it needed new service delivery partners.
In December 2009, InferMed (www.infermed.com) was chosen as the prime contractor and managed service provider of a vendor consortium made up of UK partners Rackspace, Sitecore, and Eduserv, to provide a fully managed service and rebuild, enhance and host the NHS Direct web and digital health services. The key focus of InferMed's proposal was to enhance the NHS Direct online health and symptom checker service, using InferMed's Arezzo clinical decision support technology.
At the heart of the online self-assessment service, Arezzo technology helps patients to identify the course of action or treatment appropriate for their own personal symptoms. A patient is asked a series of interactive questions relating to their condition and Arezzo generates a recommendation as to the action the patient should take next. Multiple outcomes are possible and the most appropriate is presented to the patient, along with the reasons for that recommendation.
England's NHS Direct now delivers clinically checked advice to patients, especially during periods of high demand and the NHS is reaping its benefits. For example, in its first year of operation, the use of the website health and symptom checkers resulted in 1.3m fewer visits to other healthcare professionals, including 0.7m visits to GPs. This resulted in an annual total saving of £57 million forthe NHS.
Costs to the NHS are further reduced as web interactions cost just pennies compared to around £32 for each GP interaction, or £220 for an emergency ambulance. Meanwhile, at its peak and following the introduction of the service on mobile device apps, the service was accessed by 20,000 users in one hour.
So what does the future hold for the service? Well, with advanced technology and a strategic vision of the future of healthcare, the InferMed consortium is laying the foundation for the NHS Direct of the future. By integrating personal health records, existing drug regimens and expert medical guidelines, Arezzo can not only assist hard-pressed doctors in consulting rooms, but support their patients at home with management of chronic conditions or even early detection of diseases such as cancer.
Duane Lawrence, the CEO of InferMed Limited, said, "We are delighted to be supporting NHS Direct as it leads the way in the adoption of advanced online services. These new clinical assessment tools are a forerunner of the way in which people will interact with the NHS in the future and are the foundation of digital remote care."
Find out more about the NHS Direct health and symptom checkers:
The Healthcare Global magazine is now available on the iPad. Click here to download it.