NHS heroes recognized by ID Medical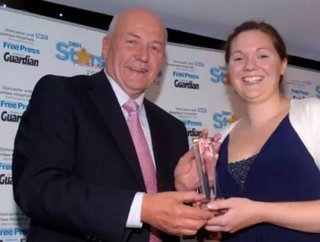 Written by Caryn Cooper ID Medical, the main sponsor of theDoncaster and Bassetlaw Hospitals NHS Foundation Trusts annual STARS Awards 2013, joinedBBC...
Written by Caryn Cooper
ID Medical, the main sponsor of the Doncaster and Bassetlaw Hospitals NHS Foundation Trust's annual STARS Awards 2013, joined BBC Look North's Clare Frisby at the Premier Suite, Doncaster Racecourse on Thursday 19th September 2013 to present NHS staff and volunteers with their merited awards.
Organisers of the DBH STARS Awards 2013, part of Doncaster and Bassetlaw Hospitals NHS Foundation Trust's STaff Awards & Recognition Scheme, welcomed over 300 Trust staff, guests and partners this year.
Nick Napier-Andrews (pictured), head of strategic accounts at ID Medical presented Christine Malloch, paediatric dietitian (pictured) and Stephen Fill, service assistant, with the unsung hero/heroine award, and later stepped on stage to announce the winner of the esteemed Star of the Month Award, Sister Nikki Walker from Theatres for her excellent leadership and management skills.
On reflection, Nick Napier-Andrews commented, "To present such admirable NHS staff with an award is a truly humbling experience and as an organisation, ID Medical is privileged to be invited to partner with Trusts such as DBH that are organising celebratory events to recognise staff in times of trepidation within the NHS. 
"To continue on a path towards excellence, NHS Trusts, including DBH, are working to instil a positive notion into the workforce to ensure a high level of patient care, and this can be directly correlated with the efficient and innovative recruitment solutions that ID Medical provides to both candidates and clients."
About ID Medical
ID Medical (HQ in Milton Keynes with office in central London) was established in 2002 and has since maintained its enviable position as market leader in the provision of high calibre medical staffing to both the public and private sectors. As the UK's leading provider of locum doctors, nurses, AHP/HSS and clerical staff, ID Medical holds preferred supplier contracts with over 80% of hospitals nationwide and supplies over 2 million hours to the NHS per annum.
Founded on its core principles of quality of service, dedication, innovation and commitment, the ID Medical Group Limited provides a complete medical staffing solution to its valued partners, forming part of the NHS procurement.
2013 has been a year filled with recognition of ID Medical's first-rate capacity to provide a premier level service to its valued candidates and clients, with the company firmly positioned within the annual Recruiter FAST 50 league, Sunday Times 100 Best Companies to Work for 2013, Investec Hot 100, Recruitment International Top 250 and the REC IRP Awards 2013. This demonstrates ID Medical's commitment to the industry whilst validating its credibility as market leader.