NHS partners with mobile app Earnd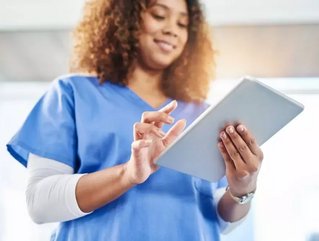 The app will enable NHS staff to access their salary when they want...
A new payroll platform that allows the UK's National Health Service (NHS) employees to access their pay as they earn is being rolled out free of charge across all NHS organisations, thanks to a partnership between Earnd and NHS Shared Business Services (NHS SBS).
Earnd is a mobile app that gives employees flexible access to their their salary, while NHS SBS is a joint venture between the Department of Health Social Care (DHSC) and digital transformation experts Sopra Steria. The platform will be available to NHS users via the existing MySBSPay app. 
The new collaboration aims to help tax-payer funded NHS organisations enhance their employee benefits, while reducing reliance on expensive employment agencies.
By offering more flexible and regular payments, which is one of the main attractions of working through an agency, NHS trusts can use Earnd to incentivise more doctors, nurses and other healthcare professionals to join their 'bank' of staff. 
A 2018 report found that temporary staff supplied by agencies cost on average 20% more than those employed directly by the NHS. It added that the NHS could save up to £480m if it filled temporary vacancies with workers from a 'staff bank rather then use agencies. 
Once adopted by an NHS organisation, its employees can access Earnd by downloading the free MySBSPay app. After a one-off registration process, users can view their income in real-time, with the option of accessing earnings at free of charge by transferring into their bank account.  
There is no limit on the number of transactions someone can make. However individual NHS employers can choose to set a maximum percentage of earned salary that employees can access before payday, according to the needs of their workforce.
NHS employees can already use the MySBSPay app to view payslips. The app also gives access to offers from stores and online brands.  
Tasy Warn, Director of Employment Services at NHS SBS, said: "NHS SBS is committed to helping our NHS partners make better use of technology to enhance the quality of their non-clinical services – with user experience, digitisation and interoperability at the very heart of our new innovations.
"The new NHS People Plan rightly places significant emphasis on the wellbeing of NHS employees. Our new partnership with Earnd is about providing the NHS with easy access to digital technologies, which improve the lives of critical healthcare workers across the country, and save more time and money for patient care."