Testing Widex Moment, the hearing aid personalised with AI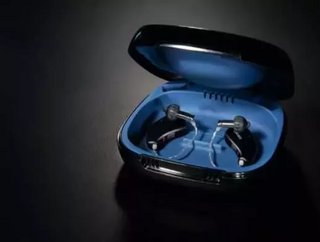 Widex Moment uses machine learning to tailor sounds to the wearer's needs...
Hearing aid manufacturer Widex claim they can transform the hearing experience by using AI to personalise a range of sounds. We tested the device and its app SoundSense Learn to see what this involved. 
Widex is one of the only hearing aid manufacturers to use artificial intelligence to create more natural, personalised sound environments. The app works by presenting users with A-B comparisons to begin understanding how they prefer sounds in particular scenarios. As well as having presets for speech, 'natural' sound, and music, each of these has three settings for added clarity, brightness or noise reduction, that can be easily turned on or off via the app. 
Our tester is a music journalist in his 40s who has had hearing problems in both ears for most of his life. He was very impressed with the warmth and richness of the music setting, as well as how much different settings could be adapted. "It has an almost infinite capacity for personalisation and fine tuning" he said. 
It's easy to switch between presets with a button on the unit itself without having to keep accessing the app. There are also separate volume and equaliser settings for each unit, meaning settings can be fine tuned for each ear. All these profiles are saveable and editable. 
Another remarkable feature is its unique machine learning capability to analyse the acoustics and background noise of frequently visited locations. "With some user feedback it learns to automatically tailor the signal to your hearing needs and preferences, and if you connect this to your GPS, it will automatically switch to those settings when you're in that location. So it could learn to adjust or tune out the hum from an air conditioning unit if I taught it the "office" setting for example." 
The hearing aid also allows you to modify the balance of signal between the app and the real world. "You can stream music quietly while still being aware of or "present" in your environment, like conversations in the office, or listening out for the kettle, or you minimise environmental noise while you speak on the phone."
"You can also change the directional focus of the sound, so if you're at a conference or lecture you can amplify the sound from the stage in front of you and hear less from the people chatting on either side of you." 
Audiologists are on hand to guide with the initial fitting via a remote consultation, and tune the settings to fit with a doctor's prescription or via a simple online hearing test. They also provide ongoing support. 
The units are incredibly discreet and barely visible compared to conventional hearing aids. "They're very lightweight and it's easy to forget you're wearing them. Thin Tube technology transmits the signal via a very thin wire instead of having to wear a large plastic lump sitting in your ear canal. This means the in-ear component is comfortable, barely detectable, and leaves your ear feeling "open" and able to breathe." 
"The processor is spectacular for something of this size - it takes microseconds to process and amplify input, so there's no perceptible lag between "real" sound and the amplified signal reaching your ear." 
Overall, he describes the hearing aid as "life-changing, in terms of its capabilities, performance, and most importantly the clarity and natural quality of sound. It feels like an audiophile enhancement rather than a disability aid." 
Head of Audiology at Widex Lise Henningsen explains that they've spent years optimising their hearing aids with machine learning and AI. "Our studies show that hearing aid users have a significant preference for the personalised settings achieved through artificial intelligence and machine learning, and that 80 per cent would recommend the function to others." 
"With AI, they are more like new lifestyle 'hearables,' which are key contributors to ubiquitous computing, just as virtual assistants and smart watches are" Henningsen added.