Wildfires threaten those with cardiovascular health problems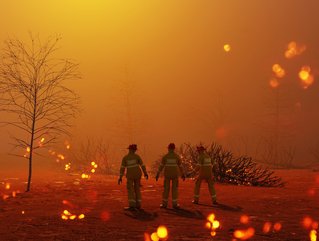 Wildfire technology is saving lives
Experts advise those with cardiovascular health conditions to stay inside when a wildfire is close, while Pano AI develops firefighting technology
In the summer months, wildfires are never far from the news. While holidays are cancelled, emergency workers rush to support areas impacted and communities unite to care for each other. In labs across the world, scientists are working to develop new technologies to help identify wildfires before they get out of control and how to stop them.
Wildfire smoke impacts physical wellbeing
In an unusual departure from regular healthcare advice, health professionals are urging those living close to bushfire smoke to stay indoors and not exercise outside. Members of the public should stay in cool areas, drink lots of water and take care of those who are vulnerable, especially the elderly and people living with chronic conditions. Those who work outdoors and close to a wildfire, should follow these rules very carefully.
"Exposure to smoke from wildfires is a significant and growing public health concern,' said Dr Heather Price, a lecturer in Geography at the University of Stirling.
"Wildfire smoke has been linked with increased emergency room visits and hospital admissions for lung-related health conditions, such as asthma and chronic obstructive pulmonary disease (COPD).
"The evidence for impacts on cardiovascular health conditions and overall mortality is more mixed. Some people are more at risk from wildfire smoke than others, including children, older adults, people who are pregnant and those with pre-existing conditions (such as asthma)."
According to Doctor Vijay Limaye, a climate and health scientist at the National Resources Defense Council, the fine particles produced in a wildfire can end up circulating the bloodstream.
"The top offender here is these fine particles, that size is really important because these can penetrate really deeply and wreak havoc on the body."
While the impact of smoke on human health is well known - new developments in AI technology are bringing firefighters and environmentalists new solutions to stopping wildfires.

​​​​​​​Saving lives in a wildfire with new AI technology
Pano AI is on a mission to provide firefighters with the technology they need to save lives and protect their environment. The company uses AI, satellite feeds and 360-degree cameras stationed on vantage points to offer immediate intelligence for firefighters to use when called to action. Its early wildfire detection is available for governments, utilities, insurers and private landowners.
"It's the most advanced product in the marketplace," said Andrew Prolov, Pano's Head of Australia. "Our network of cameras constantly survey the landscape, we combine that imagery with satellite and other data feeds, which is all analysed by our AI algorithms. When Pano detects a fire threat, our 24/7 intelligence centre confirms the fire and alerts our customers within minutes. Pano helps authorities quickly share real-time intelligence to their extended and remote team, enabling a fast and coordinated response."
The company recently raised US$17m in a growth round, to develop additional technology.
For more insights into Healthcare - check out the latest edition of Healthcare Digital and be sure to follow us on LinkedIn & Twitter.
Other magazines that may be of interest - Manufacturing Magazine.
*********************************************
BizClik is a global provider of B2B digital media platforms that cover 'Executive Communities' for CEO's, CFO's, CMO's, Sustainability Leaders, Procurement & Supply Chain Leaders, Technology & AI Leaders, Cyber Leaders, FinTech & InsurTech Leaders as well as covering industries such as Manufacturing, Mining, Energy, EV, Construction, Healthcare + Food & Drink.
BizClik, based in London, Dubai & New York offers services such as Content Creation, Advertising & Sponsorship Solutions, Webinars & Events.