"Telehealth's main challenge is cost, but it's here to stay"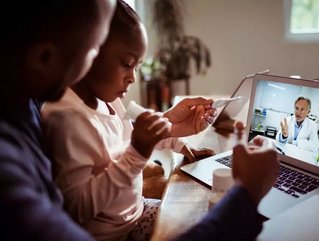 Virtual healthcare is a mainstream reality that's here for the long-term, says Julian Flannery, CEO of Summus Global...
The adoption of telehealth has skyrocketed since the coronavirus appeared. In the US alone, the number of consumers using remote healthcare services has ust a few months into the pandemic. But how will this play out long term, once face-to-face visits can resume? 
"Telehealth, or 'virtual care', has always been an innovative medium in healthcare, but the pandemic has pushed consumers and providers of healthcare onto virtual platforms across the continuum of care" explains Julian Flannery, chief executive and founder of virtual health advisory platform Summus Global. "Our original vision of a platform that can be accessed remotely across the continuum of care from prevention, to understanding a diagnosis, to ongoing monitoring and care has become a mainstream reality." 
US-based Summus was founded in 2015, five years before today's huge demand for virtual healthcare. The platform connects users to specialists anywhere in the world who can provide advice and a second opinion - as one of the caveats of accessing clinicians in another part of the country is that without a specific license they aren't allowed to practice medicine outside of their state. 
However Flannery explains the need for the service. "We founded the company to solve two problems in healthcare: the challenge of accessing high quality medical expertise quickly, and the structural ways in which the system undervalues the expertise of quality providers. 
"Today's healthcare system rewards procedure and treatment volume more than the connection between doctor and patient. We wanted to create a solution that would drive better outcomes by rewarding doctors for their expertise, and helping healthcare consumers understand their options."
The platform currently gives access to more than 4,000 clinical specialists. "In the traditional healthcare system, it can be very hard to find specialists, get in to see them, and spend quality time with them, given the complexity of the system and the way incentives are set up" Flannery says.
"We've changed that model by allowing members to access healthcare in a much more effective way. Consumers can ask any question that requires speciality expertise, and we use technology to connect them directly with a high-quality specialist within days. Specialists who work with Summus give quality time to our members, an average appointment lasts 44 minutes, which is three times more than the normal time of an in-person visit."
Their users' typical needs are to help manage chronic conditions, access mental health professionals, establish preventative practices, and understand serious and complicated diagnoses. 
Flannery believes the biggest challenge for telehealth is figuring out how to reimburse for virtual visits, and the cost to health systems, employers and consumers. "During the pandemic insurers incentivised virtual visits by reimbursing providers at the same rate as in-person visits" he says. "If private insurers revert to lowering reimbursement rates for telehealth, it will become more costly for health systems and the pendulum may swing back to some extent."
However he adds that the benefits of virtual care will outweigh the challenges. "We believe the momentum will sustain. Of course, there will be a lower base as in-person visits come back, but we think that convenience, access and scale have convinced the market that the future of healthcare will have many virtual components. Now that consumers have been exposed to the benefits of virtual care, it will play a large role in shaping longer-term adoption of telehealth."