New tool uses wearable sensor to detect COVID-19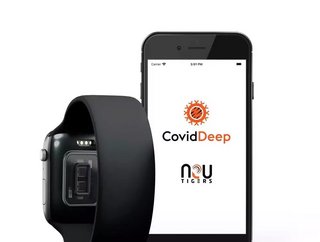 New app and sensor "twice as effective as current triage tools...
AI firm NeuTigers has launched a screening tool they say is almost twice as effective as temperature checks in predicting COVID-19. CovidDeep is a wearable device and app that can detect Covid-19 via a sensor. 
NeuTigers, an artificial intelligence company that spun out of Princeton University, say the solution is over 90 per cent accurate in predicting whether a person has the virus or not - twice as effective as current triage tools, such as temperature checks and questionnaires.
COVID-19 affects people's biometrics and physiological markers in both obvious and nearly imperceptible ways, and CovidDeep uses advanced algorithms to detect changes in physiological patterns even before they are felt by the patient.  
The screening tool collects data from several sources: a physiological sensor data via a wristband, blood pressure and blood oxygen levels via any off-the-shelf, standalone monitors, and personal health symptoms gathered from a questionnaire. 
In clinical trials researchers identified patterns in the sensor's physiological readings in terms of skin temperature, blood pressure, and blood oxygen saturation levels (SpO2) that are consistent with how COVID-19 impacts the body. CovidDeep can recognise the "digital signature" of the virus and quickly identify if a person is COVID positive, even if they do not have symptoms. 
Trials were carried out first at San Matteo Hospital in Pavia, Italy, during the acute phase of the pandemic in April 2020, followed by additional field studies in hospitals in France and the United States. 
The tool is already in use in B2B settings including nursing homes and assisted living facilities in America and Europe. NeuTigers are currently adapting it to work with connected devices from from Fitbit, Withings, Apple and Samsung among others. The consumer app is expected early this year.