The promise of telemedicine to reduce health inequities
By Noël Theodosiou and Sergio Corbo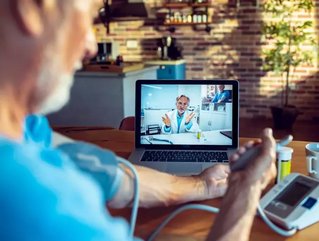 Noël Theodosiou, CEO and Sergio Corbo, COO of Luminous, reimagine a new healthcare model of "doctors without borders...
Telemedicine is not new. From the 1920s, radios have been used to give medical advice on ships. In the 1950s, a closed-circuit television link was established between the Nebraska Psychiatric Institute and Norfolk State Hospital for psychiatric consultations. Over time, telemedicine has been used to improve access and overcome inequality in healthcare. 
Studies in the 1990s showed teleradiology reduced the need for transporting head injuries out of rural areas. Another study in 2008, showed that in 74% of cases, diagnoses were more accurately done by telepathology versus on-site pathologists. And in 2012, six rural hospitals showed that through telepharmacy one or more medication errors were picked up in about 19% of patients.
To date, however, telemedicine has underachieved its potential. Since the onset of the pandemic, telemedicine use has been driven by necessity. According to IQVIA, telemedicine increased from <1% of total US visit claims in January 2020, to a peak of 20% in the spring, and ended the year at 11%.
Andy Goldberg, Chief Operating Officer of Health Verity, whose company has followed claims data on virtual care throughout the pandemic, acknowledges that while the pandemic put telemedicine "on the map", its path to adoption remains unclear. Reimbursement, regulation, and implementation of the technology to support telemedicine remain uncertain.
Healthcare and the consumer
On the other hand, patients' overwhelmingly positive experience (see "Consumer Sentiment About Telemedicine") make it an attractive prospect.
Healthcare has been undergoing a process of consumerisation, including moving into different settings, thus improving accessibility and equity. Hospitals are becoming more ancillary, while ambulatory centers, urgent care centers, minute clinics and mobile care are increasingly part of the mix.
While access and convenience are critical, to be sustainable, telemedicine has to deliver good care and be cost-effective. It needs to fulfill the needs of all stakeholders: patients, payers, and healthcare providers.
According to the Kaiser Family Foundation, in 2017 the US spent $10,637 per capita in healthcare, more than any other country and 28% higher than Switzerland, the next highest spender (PPP adjusted). Meanwhile life expectancy at birth was 78.6 years, lower than in comparable countries (82.3 years). Americans don't just spend more, they live less.
Hayley Hovious, President of the Nashville Healthcare Council, acknowledges that the US health system costs more and achieves less than other countries in the world. "The American health system costs a lot more, and we aren't putting money in the right places". Clearly, the system can do better.
We believe telemedicine has the potential to become a significant part of the healthcare mix, across conditions and throughout the care journey.
Reducing healthcare inequalities
Telemedicine also presents an enormous opportunity to overcome inequalities in primary medicine - 26% of the US population does not have a regular provider and 83 million people live in areas where access to primary care is scarce (HRSA, 2020). It's no surprise that the average wait-time to see a primary physician is 29 days in large metro areas and 56.3 days in mid-size cities (Merritt Hawkins, 2017). By providing same-day access, telemedicine can expedite diagnosis and treatment which is associated with fewer emergency visits, according to a VA study.
Patients with chronic diseases, such as diabetes and mental illness, need more support in medication and lifestyle management including behavioural therapy. Combined with remote monitoring and AI, telemedicine can deliver personalised education and precise care, leading to a reduction in hospital admissions and lengths of stay, as well as improved adherence, patient satisfaction, and outcomes.
Jonah Cohen, MD, Assistant Professor of Medicine at Harvard Medical School and Founder of Nutrimedy, a telenutrition company, agrees there are many diverse uses for telemedicine. "Payers will be increasingly interested in telemedicine and its ability to help address the massive burden of chronic disease."
Even in the treatment of cancer patients, a high-touch and multi-disciplinary care area, telemedicine can play a significant role. Most importantly, it can help immuno-suppressed patients avoid emergency rooms. A recently published study (December 2020) by the American Journal of Managed Care, showed that the implementation of telemedicine across a multi-center community oncology practice decreased exposure to risk and transportation requirements. It also helped ensure the inclusion of caregivers in virtual visits with clinicians.
Improving healthcare delivery
Karolina Starczak, CEO of Nutrimedy, emphasises the efficiency gained from telemedicine. "We make it easier to support and monitor patients, most of whom are highly engaged. There's a difference between non-compliance and 'not knowing'… we give the patient access quickly and during flexible hours to ensure they have the clinical support needed to make appropriate changes and self-manage their health closer to home."
Telemedicine can also help lower administrative costs, an area in which US spending is almost triple that of comparable countries, by moving administrative tasks (i.e. collection and processing of insurance details, prior-authorisation forms, co-pays) to online or mobile applications.
To date, telemedicine adoption has been largely focused on transactional elements of healthcare delivery such as prescription renewals and care continuity. Hovious, of the Nashville Healthcare Council, points out that with high levels of patient satisfaction, physicians are increasingly coming around to the benefits, and finding more ways to use it, especially in rural areas. 
For larger-scale implementation, several factors must be addressed including reimbursement (either partial or parity versus in-person visits), regulation (cross-state licensure), technology (platform implementation and interoperability), and infrastructure - 30 million Americans have no access to broadband, particularly in rural areas and on Tribal lands.
Culture shift
In a traditionally risk-averse industry, however, perhaps the biggest barrier for telemedicine is the cultural shift required. Healthcare providers are trained in face-to-face care. A recent survey performed by Luminous found that provider preference for in-person visits (23%) and risk of medical error (22%) are key concerns (see "Healthcare Provider Views on Telemedicine"). 
While there will always be a need for physicians to see patients in person, as virtual visit protocols are implemented, and studies on its effectiveness become available, healthcare providers will embrace the tools and learn the skills necessary to be confident with telemedicine. 
Looking to the future, a number of factors across stakeholders will facilitate the adoption of telemedicine: patients will demand more accessibility, affordability, and convenience, expecting a standard of experience they receive from other industries; payers will seek and implement more incentives to manage costs; and a technologically friendly generation of physicians, open to innovation in telemedicine will create more "doctors without borders". 
With the potential to fundamentally change the paradigm of healthcare access and deliver an improved care experience to more people, telemedicine is here to stay.