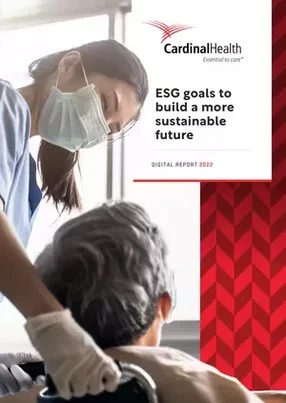 Cardinal Health: ESG to build a more sustainable future
Michael Bellantis, Director for ESG and sustainability at Cardinal Health, tells us about the organisation's commitment to reducing its emissions by 50% by
"Every day, I have the opportunity to work in an organisation that truly prioritises the health and well-being of its people and the environment. It's incredibly rewarding," Michael Bellantis says when asked about his role as the Director of Environmental, Social and Corporate Governance (ESG) and Sustainability at Cardinal Health.
The company's mission is "to be healthcare's most trusted partner, by building upon our scale, our heritage, distribution products and solutions, while driving growth in evolving areas of healthcare, through customer insight, data and analytics, and focusing our resources on what matters most." 
Headquartered in Dublin, Ohio, located in the United States' Midwest, the company was first established as a grocery wholesaler in 1971. After more than 10 years of growth in food distribution, the company pivoted to pharmaceutical distribution in the early 1980s. Today Cardinal Health is not only a distributor of pharmaceuticals, but also a global manufacturer and distributor of medical and laboratory products and a provider of performance and data solutions for healthcare facilities.
"Cardinal Health plays a key role in the very complex healthcare industry," Bellantis says. The healthcare sector is energy-intensive and accounts for 4.4% of the world's greenhouse gas emissions, according to the nonprofit organisation Health Care Without Harm. To address environmental issues, Cardinal Health has established a set of sustainability guiding principles with four key pillars, Bellantis explains. "The first pillar is pollution prevention, focusing on minimising waste generated throughout our operations and maintaining high rates of reuse and recycling.
"The second is energy optimisation, to reduce impact on the environment, minimise our greenhouse gas emissions, and give preference to renewable energy sources. The third pillar is around designing projects or products to reduce consumption of natural resources. And the fourth is our employee and public outreach, to promote environmental awareness and engagement among employees, the public and our customers. 
"ESG, specifically around climate action, is the right thing to do," Bellantis adds. "As a global company, we know that the long-term health of our communities, colleagues, customers and partners depends on a commitment to environmental sustainability.
"We've established several ESG-related goals including a commitment to reducing enterprise Scope 1 and Scope 2 greenhouse gas emissions by 50% by the fiscal year 2030, using fiscal year 2019 as the baseline. 
"We've established these goals with the intention of alignment with science-based targets to help mitigate the impacts of climate change," he says. 
The reduction applies to scope 1, or direct greenhouse emissions, from the fuel burned in facilities and the vehicles the company owns or operates, and scope 2 emissions, from the consumption of electricity, heat and cooling that the company purchases. "My objective is to steer the organisation in a manner that we can achieve these goals, while simultaneously continuing to grow, innovate and meet commitments to stakeholders as a business," Bellantis explains. 
"It's about working together and establishing those trusted relationships in a multi-tiered organisation, which allows us to drive performance. Building working relationships and establishing trust with stakeholders enables everyone to meet around the table and march in the same direction towards these goals." 
To monitor its greenhouse gas emissions, Cardinal Health uses a software solution and system that "enables us to track trends and look at areas where we can improve," Bellantis says. 
Bellantis says that a significant challenge - across all industries - is tackling scope 3 emissions. These indirect emissions occur in a company's value chain and include such things as greenhouse gas emissions from the suppliers and vendors that deliver raw materials, external manufacturing facilities, and last-mile partners who drive products to healthcare providers. These are more difficult to measure than Scope 1 and 2 emissions, Bellantis explains, but they represent an important impact on the environment. "Our opportunity is to screen these scope 3 emissions in a way that allows us to track and reduce them." 
Bellantis is optimistic, he says. "These types of opportunities drive innovation, and Cardinal Health has demonstrated that it's a very innovative company, able to tackle complex issues. It's exciting that these conversations are taking place in the area of sustainability. Ultimately, reducing our environmental impact makes our operations both more resilient and more efficient." 
Cardinal Health has several other important environmental projects underway, including its Total Waste Management Initiative, an enterprise-focused solution focused on the elimination, as well as the reduction and/or reuse of waste and waste by-products. 
Locally to its headquarters in Central Ohio, Cardinal Health recently executed a power purchase agreement (PPA) in partnership through Smart Columbus Energy, an initiative of Smart Columbus, a public-private partnership that leads the city's efforts to transition to clean energy. The PPA will enable the company to source 100% renewable energy from next year onwards for Cardinal Health's headquarters and for its premier central-Ohio distribution centres. "This will be Ohio-based, renewable energy. It's a terrific opportunity for us to support the development of renewable energies in the community many of our employees call home." 
The company also further works with Smart Columbus in its dedicated innovation efforts in piloting certain technology, transport, and environmental developments. It was this organisation that facilitated the PPA deal, thanks to its knowledge of local utility firms. 
In addition to its sustainability goals, Cardinal Health is similarly focused on the social and governance aspects of ESG; notably, in building a diverse, equitable and inclusive workforce with goals to increase leadership representation of women and racial and ethnic populations among its workforce by 2030. 
To integrate all of its corporate citizenship initiatives throughout the company, Cardinal Health's ESG Steering Committee, chaired by the EVP and Chief Corporate Affairs Officer, is tasked with: coordinating and prioritising recommendations and requests about ESG issues; making recommendations to management on ESG projects and investments, with a focus on business benefit, cost-effectiveness and sustainability; assessing recommendations and requests for ESG information or initiatives from stakeholders and interest groups; and developing consistent internal and external communications about ESG matters. 
"It's really an exciting time at Cardinal Health," Bellantis says. "Our ESG priorities are more important than ever. We're pleased to be making a positive difference and very much looking forward to continuing the work." 
You can learn more about all of the company's  corporate citizenship efforts in its latest Corporate Citizenship Report.