5 mins with... Sigal Atzmon, Medix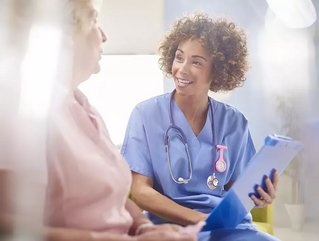 Sigal Atzmon tells us why she founded Medix after going for a mammogram
Sigal Atzmon is the President and Chief Executive Officer of Medix, a company she founded after realising how daunting undertaking a common test like a mammogram could be. Here she tells us about forming the company and expanding to advocate for over 6 million patients in 90 countries.
What led you to establish Medix?
When I was young, I dreamed of being a doctor. Medicine fascinated me on so many levels. I had to put that dream on the back burner when I went to university and instead chose to study Economics and Law. Finance has proven to be a valuable grounding, particularly when you also harbour the ambition to start your own business. 
With that academic grounding, my career took me down the investment management route and I held diverse executive roles in the financial sector, including managing a portfolio of over US$4.5 billion.
Fast forward to the birth of my third child. Soon after, I went for a mammogram test. It was in the waiting room that I woke up to the intensity of the process. I was fortunate in my outcome, but the waiting triggered a torrent of emotions, from uncertainty and isolation to the doubt and fear felt by all patients when confronted with a potentially serious diagnosis.
I decided that it was time to follow my early passions of entrepreneurialism and medicine and start a company in the healthcare space, with a business model and goal that would change lives for the better. In 2006, I resigned from my corporate role, researched the gaps in the global healthcare and insurance industries and founded Medix. 
What do you want to achieve with Medix? 
My primary motivation behind Medix was, and remains, to enable insurers and large corporations to evolve from the role of 'payer' to 'healthcare player', and ambassador, and be in the position to proactively contribute to the healthcare landscape. 
For this to happen, we developed a model that allows them to provide members and employees with the necessary tools to successfully navigate their medical journey, from preventing the onset of serious medical conditions, through to disease management, rehabilitation and mental health support. 
Once a patient receives a diagnosis for a serious illness, how does Medix support them?
In the past 15 years, Medix has expanded into many areas of the healthcare world, yet central to it all is maintaining a specialist's focus on where we can make a life-affirming difference for our clients. 
One of the largest gaps in the world's healthcare systems that needs addressing is the importance of a single point of contact who is able to consolidate and ensure all options are evaluated. This will help the patient navigate their medical journey and empower them with the correct medical information and counsel to make the right decisions. 
Healthcare has become so fragmented and specialist-focused, which can create a multitude of issues. There needs to be a multidisciplinary approach so each patient and their family has his/her own Praetorian guard protecting them. This is the gap we fill through Medix's Personal Medical / Disease Management Service. 
Can you share an example of how Medix has supported a patient?
We stick to a strict code of client confidentiality, but one of our clients, Mr. D, was a healthy 61-year-old gentleman until he was hit by an unexpected episode of weakness, cold sweat and dizziness. He was admitted to the hospital where tests revealed a few conditions: an irregular heartbeat, known as arrhythmia; and two irregularities in his brain, a mild dilation of an artery known as cerebral aneurysm, and a small brain tumour called a meningioma that was diagnosed as most likely benign.
The episode did not reoccur, Mr. D's health improved, and he was discharged from the hospital with the request to return for a check-up in three months. At the check-up he felt strong, yet the doctor suggested he undergo three major procedures: Gamma Knife surgery - a precise radiation treatment to his brain to treat his meningioma; an endovascular coiling - a procedure to treat his aneurysm, which involves reaching the brain via a catheter from his groin; and, to treat his arrhythmia, they would insert a pacemaker. Overwhelmed by the numerous surgical procedures recommended, Mr. D turned to Medix for guidance.
As for all the cases we manage, Medix appointed a dedicated team including a doctor and nurse to personally lead and manage Mr. D's case. They consolidated all his medical information and sent the imaging to leading radiologists for investigation. The medical reports and radiologist revisions were then sent to an internationally renowned cardiologist and neurologist, to ensure that they went through a comprehensive and multidisciplinary analysis. 
The cardiologist concluded that the arrhythmia should be treated by standard medication, and not through a surgical procedure. The neurologist's team explained that the brain findings were completely incidental and unrelated to the episode. In his report, he said that the aneurysm and meningioma are long-standing pathologies with minimal risk of complications in the future, and do not require intervention, only a follow-up. He strongly objected to the recommended procedures, while providing updated medical literature and guidelines to demonstrate that they have limited benefits and would be high risk. 
During this whole process, Mr. D's dedicated case doctor and nurse personally attended to him, answered all his questions, explained the alternatives, provided access to the best quality medical care, and empowered him to make the correct decisions. We monitored his progress and were delighted to confirm he was symptom free.
What do you predict for healthcare systems worldwide in the next few years? 
The COVID-19 pandemic has highlighted gaps and the urgent need for an integrated digital-physical healthcare eco-system. Countries, specifically their hospitals, should be better prepared with weightier budgets for the future. The swath of regulator-approved vaccines saved many during these last few months but there will be other pandemics. We must build on what we have learned, not rest on our laurels and think this is a one-off. We must protect our children's future, and their children's. 
On the preventative side, actions need to be taken so populations are better equipped and can live longer. One of the most significant lessons we are learning through this crisis is that we urgently need to develop and implement digital health and AI-based health services. With these in place, we will be in a far stronger position to offer healthcare services to the masses at an affordable price, and without overburdening hospitals, clinics and care facilities.