Top 10 uses of AI in healthcare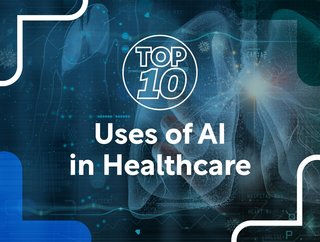 Top 10 uses of AI in healthcare
Here we digitally salute the Top 10 uses of AI in healthcare - from homes to hospitals, diagnosis to treatment, AI is enhancing patient care and efficiency
AI has been repeatedly touted as the answer to healthcare professional's woes, in completing time-consuming paperwork to making communication across hospitals more efficient. Here, we look at the Top 10 uses of AI in the healthcare sector.
10. Accurate cancer diagnosis
Pharmaceutical Manufacturing company Novartis uses AI to develop the speed and accuracy of the services it provides, all the way from diagnosis to drug discovery.
The healthcare products made by Novartis reach close to 1bn people across the world and the company is always on the lookout for new technology to expand its latest treatments.
9. Accurate diagnosis of blood diseases
Scopio Labs is the first company to solve the tradeoff between field-of-view and resolution. The company has succeeded in developing a digital Full-Field imaging and AI-powered platform that's able to scan blood samples at the highest resolution needed for haematological cell morphology analysis.
8. Virtual health assistants
Oracle has built a generative AI service, Oracle Clinical Digital Assistant, to help healthcare professionals minimise manual work.
"By bringing comprehensive generative AI and voice-first capabilities to our EHR platforms, we are helping providers reduce mundane work that leads to burnout," said Suhas Uliyar, Senior Vice President of product management at Oracle Health.
Read more here.
7. Booking appointments
HIPAA-compliant platform Botco.ai lets patients book a healthcare appointment with a reliable 24-7 fully-automated, AI-powered marketing chatbot.
"Online chatbots provide the fastest and easiest way for patients to get immediate answers to their insurance questions, but many treatment centres don't have the time or resources to put a chatbot on their website," explained Jacob Molina, Product Manager at Botco.ai.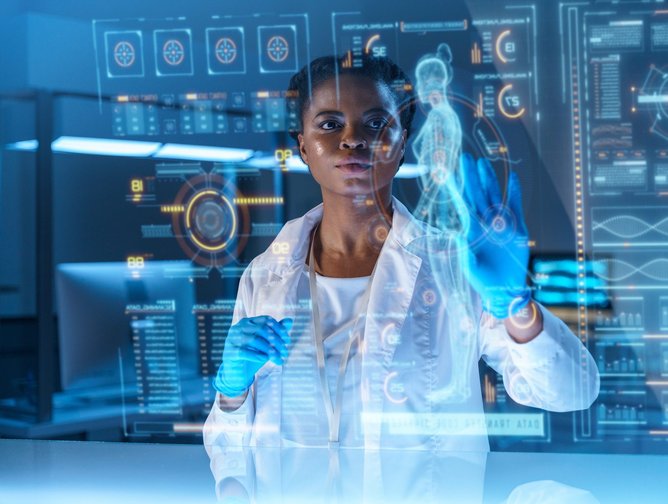 AI in healthcare
6. Data analysis
L.E.K. Consulting is a global strategy consultancy. Anne Dhulesia, a Partner in L.E.K.'s European Life Sciences practice, recently explored the power of Big Data in the healthcare sector.
"Over the last decade, pharmaceutical R&D has increasingly leveraged the power of big data and AI, as more and more relevant data was being generated, made accessible, and cleaned in such a way that it could be analysed and serve as training datasets for AI algorithms," said Dhulesia.
5. Supporting clinical trials
The future of clinical trials depends on harnessing the power of digitisation to its fullest extent. Lindus Health has already seen the value AI can provide in clinical trials, from predicting which participants may require adherence reminders to analysing protocol documents for suggested improvements or detecting inconsistencies.
4. Diabetes
DreaMed Diabetes is an AI-based remote diabetes solution, with a particular focus on rural communities. The new tool, approved by the FDA, is cloud-based and uses AI to monitor glucose levels as well as lifestyle habits, providing clinicians with an analysis of this patient's data.
3. Healthcare worker shortage
Elad Walach, the CEO and co-founder of Aidoc, designed Aidoc to utilise the best of AI in order to minimise healthcare disparity and help to support the healthcare labour shortage.
Aidoc's AI healthcare solutions have been built to 'empower physicians to expedite patient treatment and enhance efficiencies'.
2. Cyber security
AI-based solutions at the hardware layer defend against sophisticated attacks, protecting sensitive data from potential breaches. Flexxon's CEO Camellia Chan spoke with Healthcare Digital about how the company uses AI to empower the industry to circumvent cyberattacks.
"AI reduces time to knowledge, empowering faster decision making and remediation of threats. The strongest organisation that will come on top in terms of their security protocols are those that are harnessing AI-powered solutions."
1. Patient monitoring
Stefano Goria, CTO and Co-Founder at thymia, says AI can assess and monitor depression, supporting patients faster and saving healthcare workers time.
Goria has published a number of journal papers on the use of multimodal AI to identify biomarkers for depression. Now, he's building tools to monitor health conditions, such as depression, using AI.
"By providing clinicians with a wealth of previously unattainable objective information on a patient's signs and symptoms, AI can help them spot mental illness sooner, and more accurately monitor the condition over time," said Goria. "This is especially important given the current restraints on clinical capacity."
*********************************************
For more insights into Healthcare - check out the latest edition of Healthcare Digital and be sure to follow us on LinkedIn & Twitter.
Other magazines that may be of interest - Manufacturing Magazine. Check out our free upcoming virtual event, Manufacturing LIVE, 6-7th December 2023.
*********************************************
BizClik is a global provider of B2B digital media platforms that cover 'Executive Communities' for CEO's, CFO's, CMO's, Sustainability Leaders, Procurement & Supply Chain Leaders, Technology & AI Leaders, Cyber Leaders, FinTech & InsurTech Leaders as well as covering industries such as Manufacturing, Mining, Energy, EV, Construction, Healthcare + Food & Drink.
BizClik, based in London, Dubai & New York offers services such as Content Creation, Advertising & Sponsorship Solutions, Webinars & Events.