H1 launches online platform for healthcare professionals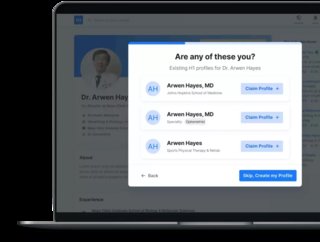 H1 has launched H1 Explorer, a new online platform for healthcare professionals to list their work history and achievements
A new online platform connecting healthcare professionals has launched, with profiles for over 10 million members. 
Developed by H1, the H1 Explorer platform allows healthcare professionals to claim and update their profiles, a bit like an online CV. By signing up, it is hoped clinicians will find opportunities to collaborate with stakeholders, and drive scientific research, as well as connect with industry influencers, and access research, speaking, and clinical trial opportunities. 
What sets H1 Explorer apart is that it enables healthcare professionals to create their own profiles, highlighting the work or achievements they choose. "Today, healthcare professionals are left in a position where opportunities for collaboration are being made about them, but without any opportunity for them to showcase who they are and how they intend to shape the future of science and healthcare" said Ariel Katz, Co-Founder and CEO of H1. 
"H1 Explorer gives healthcare professionals the platform to tell their narrative. H1's mission is to create a healthier future by connecting stakeholders across the healthcare ecosystem - healthcare professionals are at the centre of this and with Explorer they are finally in the driver's seat."
H1 say this is the most comprehensive platform of healthcare professionals ever created. The platform pre-populates profiles to make it easier for users to share their work history and publications they've contributed to. They simply have to visit the website, search for their name, and claim their profile. 
Salman Rafi Punekar, MD, Assistant Professor of Medicine (Medical Oncology) at NYU Langone Health, commented: "The H1 Explorer network is a unique platform that can connect medical professionals in new and meaningful ways. As the network expands, I foresee applications that can increase collaboration between researchers, facilitate clinical trial enrollment, and bridge gaps between academic and community practices, all of which are particularly relevant in oncology."