Koa Health: businesses must champion employee mental health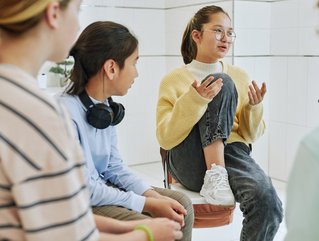 Mental health support in the workplace
Doctor Anna Mandeville, from digital mental health provider Koa Health, says businesses must step in to support employees mental wellbeing
Doctor Anna Mandeville, Consultant Clinical Psychologist and UK Clinical Director at digital mental health provider Koa Health says businesses must rethink company structures to prevent poor mental health among staff.
Building mental health support at work, with digital healthcare
Koa Health's goal is to use innovative technology to build mental health support that is both simple and accessible, with the ultimate goal to improve people's mental wellbeing.
"Amidst a growing recognition of the importance of supporting employee mental health, mental health is not a cultural priority for two-fifths (40%) of UK organisations. To not only attract but retain top female talent, businesses must support women's mental health," Mandeville says.
Working women, at all career levels, face specific challenges around mental health:
Women are twice as likely as men to be diagnosed with anxiety
Women are three times as likely to experience common mental health problems.
Juggling caregiving and work responsibilities, struggling with hormonal changes and trying to keep up with personal relationships leads to increased levels of stress. This can translate to feeling overwhelmed, burnt out or depressed.
"It starts with an organisation making it clear that mental health is squarely on the agenda. Providing comprehensive benefits is the next step," says Mandeville. "Giving employees access to high-quality digital mental health tools provides an efficient and discreet route to guided self-help and ensures appropriate privacy."
Mandeville says that discreet access is vital for women who fear they will be seen as weak or unprofessional for asking for help. Employers can provide support from trained clinicians if additional intervention is needed. Employers must also measure women's wellbeing within the workforce as, without this, it's impossible to drive accountability and positive change.
"I urge employers to commit to addressing women's mental health in the workplace," says Mandeville. "When women feel supported and psychologically safe in the workplace, they're more able to bring their best selves and best ideas to work."
Mental healthcare issues 'have never been higher'
In late 2022, Mandeville shared her predictions for the healthcare sector in 2023.
"Rates of mental health issues have never been higher and are expected to continue to increase as the cost-of-living crisis and the war in Europe continue," she said. "In 2023, the shift towards new, digitally enabled models of care will be more necessary than ever. To ensure longer-term benefits to both people and healthcare systems, we must produce real efficiencies in care without sacrificing clinical quality. Busy clinicians already know - something's got to give, and it can't be our human resources. I predict that once assured about quality and safety, clinicians will be proactive about the need for change, and we will start to see an increase in clinicians leveraging digital technology to offer solutions that are more timely, continuous and comprehensive across the mental health continuum."
Click here to read what Koa Health's Tania Johnston, Clinical Psychologist and Dr Chuk Anyaegbuna, Clinical Service Lead, predicted for 2023.
*********************************************
For more insights into Healthcare - check out the latest edition of Healthcare Digital and be sure to follow us on LinkedIn & Twitter.
Other magazines that may be of interest - Manufacturing Magazine.
*********************************************
BizClik is a global provider of B2B digital media platforms that cover 'Executive Communities' for CEO's, CFO's, CMO's, Sustainability Leaders, Procurement & Supply Chain Leaders, Technology & AI Leaders, Cyber Leaders, FinTech & InsurTech Leaders as well as covering industries such as Manufacturing, Mining, Energy, EV, Construction, Healthcare + Food & Drink.
BizClik, based in London, Dubai & New York offers services such as Content Creation, Advertising & Sponsorship Solutions, Webinars & Events.