The next generation of wearable technology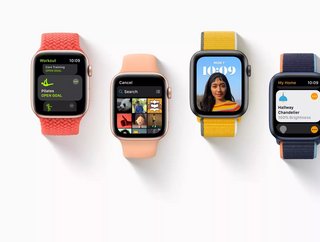 Wearable technology has evolved massively since Fitbits appeared. We take a look at three key areas of innovation.
Wearable technology for healthcare has evolved significantly since Fitbits started becoming household items. The combined possibilities of tracking data, constantly advancing technology , and a pandemic that forced most of the world to receive healthcare at home for more than a year, has led to huge innovations in wearable devices that do everything from reduce hospital stays to monitor the menstrual cycle.  
Post-operative care
A complicated operation like an organ transplant typically requires a lengthy stay in hospital and significant post-op care. Two major reasons for this are to prevent wounds from becoming infected, and regaining mobility. But what if there was a device patients could easily wear that helped both these areas so they could return home sooner? 
geko™ is the name of a wearable created by British company Sky Medical Technology, specifically for patients who have had a kidney transplant. This small muscle pump activator is worn round the leg, transmitting painless electrical pulses to stimulate blood flow. 
This prevents oedema, a common symptom of kidney disease caused by swelling due to a build-up of fluids, typically in the legs and ankles. 
In a randomised controlled clinical trial at  Canada's Lawson Health Research Institute,  221 transplant patients were either given a conventional compression stocking or the geko™ device for six days after their operation. 
Researchers found that the patients wearing geko™ had less fluid retention as they were able to urinate more frequently. They experienced 31 per cent less swelling, and were able to return home several days earlier than patients wearing the compression stocking. 
Perhaps the most remarkable outcome was the reduction in surgical site infections by nearly 60 per cent. Infections acquired in hospitals remain a huge problem worldwide, and transplant patients are at a particularly higher risk because of the immunosuppressant medication they need after an operation. 
Dr. Alp Sener, who led the trial, said: "The study results have been both surprising and exciting. Not only have we cut down wound infection rates, but we have also seen a considerable improvement in the new organ's function following transplantation. Patients reported feeling more satisfied with the transplant process and are more mobile."
Sener is the Chair and Chief of Urology at Western University in Ontario. He added: "Reducing infection means a much better outcome for the patient and considering that recent data shows wound infections can cost the health care system thousands of dollars per person, it's a win-win situation."
Monitoring menstrual cycles
British medical device company Fertility Focus launched OvuFirst this year, a wearable sensor that helps women monitor their menstrual cycles. Worn on the arm or wrist overnight, it is alleged to be over 90% accurate at predicting ovulation, even for women with irregular cycles. 
It works by measuring temperature multiple times through the night. A woman's body temperature tends to dip slightly just before the ovary releases an egg; 24 hours later it rises and remains at the same level for several days. 
By downloading data from the OvuFirst sensor to a synchronised app each morning, it can track the ovulation period within an eight day window. 
The sensor works in a similar way to the company's existing product OvuSense, which is inserted like a tampon. While OvuSense is aimed at women who have been trying to conceive for a while, the wearable version is for women who are in the first months of trying to conceive, designed to be as non-invasive and  simple to use as possible. 
"We took our revolutionary OvuSense patented technology proven in over 190,000 cycles of use, and used it to develop and test the most accurate skin-worn fertility monitoring sensor available on the market," CEO Robert Milnes explained when the product launched. 
"We are proud to offer a convenient and easy-to-use solution to assist and support women during the early stages of their fertility journey, whether that is trying to start a family, or simply learning more about their bodies and cycles." 
Advanced blood pressure monitoring
Perhaps the most common application of wearable technology is for measuring blood pressure. The prevalence of hypertension and its associated risks (it's frequently labelled "the silent killer") makes frequent blood pressure checks vital. 
Traditionally blood pressure monitors that work remotely have been uncomfortable, noisy and disruptive, until smartwatches were enabled to do this, leading to a wide variety of cuffless devices. 
The technology within these devices is evolving too. Pulse Transit Time (PTT) is the most common type of  cuffless blood pressure monitors, the Apple Watch being one example. 
However PTT monitors use two sensors and need frequent calibration. PPG blood pressure monitors (or photoplethysmography to give their full name) only have one sensor and don't need to be calibrated. 
Valencell is a US-based biometric company that develops PPG sensors, and Dr. Steven LeBoeuf, President and Co-Founder, believes that PPG monitors are more accurate. "The advent of modern machine learning tools has helped earn PPG a solid edge in terms of accuracy, generality, and convenience" he says. "This is because the complexity of the PPG waveform and the richness of its features provide more information for machine learning approaches to "connect the dots" between PPG and blood pressure. " 
Calibration-free, PPG monitoring is ideal for small wearable devices, and the remote blood pressure market is growing steadily each year -  by 2025 it is projected to be worth almost $3 billion. 
"By enabling accurate, cuffless, calibration-free blood pressure monitoring within familiar wearable form-factors, PPG-based monitoring solves this final technical challenge" LeBoeuf says. "Ultimately, the marketplace will see finger clips, rings, smartwatches, headphones, hearing aids, chest patches, and more incorporating PPG-BP technology. This will enable seamless monitoring throughout one's daily activities, providing the feedback needed to target user-specific therapies, managing hypertension, improving public health, and reducing medical costs." 
This article appears in the August issue of Healthcare