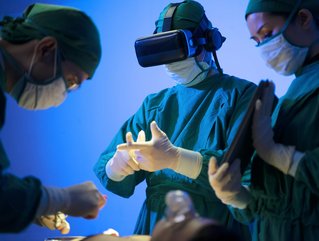 MedTech
Stryker, Siemens Healthineers, Abott, Roche, Philips Healthcare, Medtronic, GE Healthcare, Cardinal Health, Olympus & 3M are our Top 10 MedTech companies


10. Olympus
Optical products manufacturer aims to solve problems across the medical and life sciences sectors, as well as the industrial equipment industry. Headquartered in Tokyo, Japan, Olympus has over 35,000 employees globally in nearly 40 countries and regions.
Olympus and digital health firm Inhealthcare recently partnered with the NHS to create a solution that will shorten waiting times for endoscopies.
LinkedIn: Olympus
Twitter: @Olympus_Corp
9. Cardinal Health
Cardinal Health is a global distributor of pharmaceuticals and manufactures equipment for laboratories. Headquartered in Dublin, Ohio, Cardinal Health has 44,000 employees working in more than 30 countries.
As a widely trusted healthcare partner, Cardinal Health also drives innovative medtech growth across healthcare and collects data for clients.
LinkedIn: Cardinal Health
Twitter: @cardinalhealth
8. Siemens Healthineers
Healthcare technology company Siemens Healthineers has moved computing to the cloud to better support patients and healthcare professionals. Using its Digital Ecosystem, Siemens Healthineers is leading the digitalisation of healthcare. Siemens Healthineers uses Microsoft Azure to make solutions easier for healthcare providers to access and improve the value of care delivered.
LinkedIn: Siemens Healthineers
Twitter: @SiemensHealth
7. Stryker
Medtech firm Stryker is based in Kalamazoo, USA and was founded in 1941. In the eight decades since, Stryker has become a leading medical technology company with US$18bn in sales in 2022. Its primary work is in Neurotechnology and Orthopaedics. In 2020, Stryker purchased K2M Group Holdings, which manufactures products used in spinal surgery, for US$1bn.
LinkedIn: Stryker
6. Philips Healthcare
Philips Healthcare CEO Roy Jakobs is on a mission to distribute healthcare.
"The right to healthcare is universal and we are part of the system delivering healthcare," he said.
Philips works hard to support healthcare professionals as they assist patients in their recovery. Its software solutions are one such route - from remote patient monitoring to telehealth, and many more.
LinkedIn: Philips
Twitter: @PhilipsHealth
5. Medtronic
Medtronic is one of the biggest medical technology services in the world, which employs over 86,000 people globally and supports healthcare workers in 150 countries. In 2020, Medtronic acquired robotic technology company Mazor Robotics for US$1bn. Uniting Medtronic's intra-operative imaging with Mazor's technology has transformed surgery procedures.
LinkedIn: Medtronic
Twitter: @Medtronic
4. 3M
Material science company 3M made US$26bn in sales across 2021, through its four sectors: Safety & Industrial, Transportation & Electronics, Consumer and Health Care. Its healthcare technology sector has a strong focus on biopharma filtration and technology.
3M uses big data, predictive analytics' AI and IoT to transform its business operations and advance customer value.
LinkedIn: 3m
Twitter: @3m
3. GE Healthcare
GE Healthcare's technology has greatly evolved since the arrival of digital healthcare. Its software solutions are building 'a world where healthcare has no limits' with its Centricity Electronic Medical Record system, which allows healthcare providers to collect, store and manage patient data electronically. GE's telehealth platform Mural Virtual Care Solution also provides remote patient monitoring, for a post-pandemic healthcare system.
LinkedIn: GE Healthcare
Twitter: @GEHealthCare
2. Abbott
Global healthcare leader Abbott's team totals 113,000 employees working across 160 countries, helping people to live their lives to the fullest – whatever stage they are in.
Abbott's medtech covers diagnostic tests for cardiovascular diseases and diabetes. Its medical device manufacturing. This is focused on building equipment for cardiovascular treatments, (such as stents or pacemakers), as well as diabetes management devices like glucose metres and insulin pumps.
Abbott is investing in technologies to advance patient care. One way is in integrating connected devices into their products to allow healthcare professionals to monitor health conditions remotely.
LinkedIn: Abbott
Twitter: @AbbottNews
1. Roche
Biotechnology research company Roche has been recognised as the most sustainable company in the Pharmaceuticals index of the Dow Jones Sustainability Indices (DJSI), for ten consecutive years.
In addition, the World Health Organization Model Lists of Essential Medicines includes 30 medicines developed by Roche, from antibiotics, antimalarials and cancer medicines.
Roche develops biotechnological products, which are essential in modern medicine. The company is also exploring the integration of digital health technologies to improve patient outcomes, from using data analytics to aid in disease management to patient monitoring.
LinkedIn: Roche
Twitter: @Roche
*********************************************
For more insights into Healthcare - check out the latest edition of Healthcare Digital and be sure to follow us on LinkedIn & Twitter.
Other magazines that may be of interest - Manufacturing Magazine.
*********************************************
BizClik is a global provider of B2B digital media platforms that cover 'Executive Communities' for CEO's, CFO's, CMO's, Sustainability Leaders, Procurement & Supply Chain Leaders, Technology & AI Leaders, Cyber Leaders, FinTech & InsurTech Leaders as well as covering industries such as Manufacturing, Mining, Energy, EV, Construction, Healthcare + Food & Drink.
BizClik, based in London, Dubai & New York offers services such as Content Creation, Advertising & Sponsorship Solutions, Webinars & Events.