Over half of Britons turn to digital fitness post-pandemic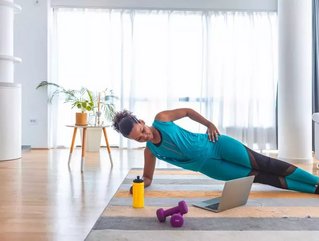 More than half of British people surveyed by the British Chiropractic Association will use digital fitness once lockdown ends...
A new survey reveals that more than half of people in Britain plan to use digital fitness to remain active once lockdown restrictions are over. 
The research found that 52% of Brits are planning to use digital fitness solutions such as virtual personal trainers and home workout videos to stay fit and healthy as lockdown restrictions lift. Meanwhile 44% said they were seeking to improve their overall energy levels. 
However the British Chiropractic Association (BCA), who are behind the research, have warned people to exercise in "bitesize chunks" if doing so at home, to reduce the risk of injury. 
The survey, conducted with OnePoll and the BCA, investigated the lifestyle habits and wellbeing routines of 5,000 people across the UK, to understand the lasting impact of lockdown to the population's physical health. 
The study looked at areas including exercise, social interaction and workplace initiatives. Across all generations (18-65-year-olds), people are expected to continue to take a more proactive approach to staying fit and healthy, with 44% of Brits wanting to improve their overall energy levels post-lockdown. Thirty-six per cent want to generally get more movement into their day. The change in attitudes towards physical health and wellbeing is expected to continue beyond the immediate effects of the pandemic. 
The number of people using their time to exercise has been rising since the beginning of the first lockdown in March 2020. Previous research conducted by OnePoll and the BCA in November 2020 revealed that half (50%) of adults set new routines for their wellbeing at the start of the first lockdown. 
It also revealed that since the start of lockdown, 91% of people had stuck to their new routines. A separate study from international healthcare group Bupa UK suggests people are following new and existing routines to either maintain their mental health (66%) or lose weight (31%).
The increase in the number of people turning to digital fitness solutions to improve their physical health and wellbeing brings with it the risk of back-related exercise injuries, as a result of working out unsupervised or without proper equipment, adding to the ten million people in England and Scotland alone who already experience persistent back pain. Further research by Bupa UK revealed that 7.2 million eager exercisers have potentially already been hurt or injured during lockdown, with those doing online classes or PT sessions among the most likely to report injury.
Catherine Quinn, President of the British Chiropractic Association, commented: "Social distancing and anxiety around returning to shared spaces may keep us out of gyms and fitness classes for a while longer, so it's encouraging that so many people are planning to either pick up or continue exercise routines at home. But it's important that new or advanced routines are taken on safely and sensibly to avoid any home injuries.
"Our members have seen an increase in patients with injuries related to working out alone, without guidance or supervision from a personal trainer, since the beginning of the first lockdown. The good news is that incorporating a few, small habits into home exercise routines, such as building up physical activity in manageable bitesize chunks, warming up and cooling down and taking rest days, can stop any unnecessary aches or pains from preventing people from reaching their post-lockdown goals."